Bitcoin back below $20K, while Coinbase, MicroStrategy, other crypto stocks bounce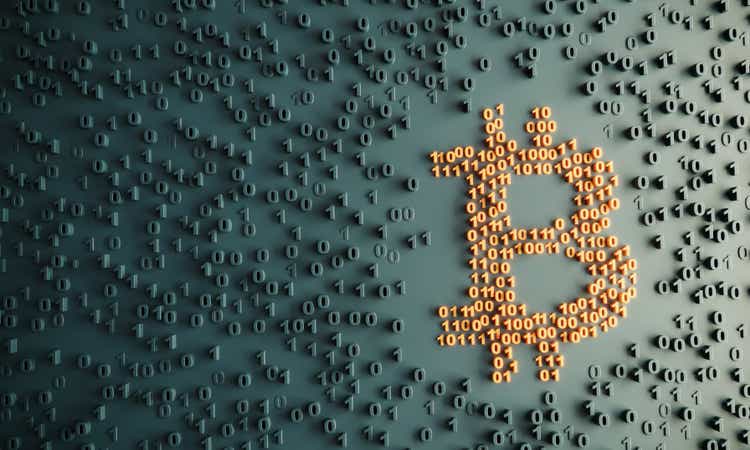 Bitcoin (BTC-USD) on Tuesday is slipping back under its $20K key level in a backdrop of a broader market downturn and mounting recession fears. Still, crypto-focused stocks are seeing some buying pressure.
The largest digital token by market cap is edging down 0.6% to $19.4K as of shortly before 11:00 a.m. ET. Ethereum (ETH-USD), though, is rising 0.8% to $1.1K over the past 24 hours, as investors brace for its transition to a Proof-of-Stake consensus mechanism from energy-intensive Proof-of-Work.
The relatively slower price action follows bitcoin's (BTC-USD) worst first half of a year in its 12-year history, dropping 60.3% in H1 2022. Crypto owners remain committed despite the slump in bitcoin and cryptos more broadly. Furthermore, "the LUNA and UST crash [in May] has led to a tragic contagion amongst other crypto firms, as we have seen liquidity withdrawn from the crypto market at an extraordinary rate," Marcus Sotiriou, an analyst at U.K-based digital asset broker GlobalBlock, wrote in a note.
Some strategists are calling for a near-term bottom in bitcoin (BTC-USD) given its huge drawdown over the past year. Note that "the case for Bitcoin bottom formation is one grounded in observable dominance of strong-hand investors, historically significant lows in numerous macro oscillators, and a strong confluence with prices hovering in striking distance of several bear-market pricing models," analysts at Glassnode wrote in a note, as quoted by Bloomberg on July 4.
Moreover, Mark Newton, head of Technical Strategy at FSInsight, said in the week ended July 1 that bitcoin (BTC-USD) could bottom out this month as the weekly and monthly charts point to a possible trend reversal.
While a slew of cryptos is trading slightly lower intraday, crypto-related stocks are mostly rising in a rare dynamic, including Coinbase Global (NASDAQ:COIN) +3.8%, MicroStrategy (MSTR) +6.7%, Silvergate Capital (SI) +7.2%, Bitfarms (BITF) +4.6% and Riot Blockchain (NASDAQ:RIOT) +4.7%.
Previously, (July 1) El Salvador bought the dip in bitcoin again.