Euro could drop another 10%, below $1; UK pound also 'unbuyable' - SocGen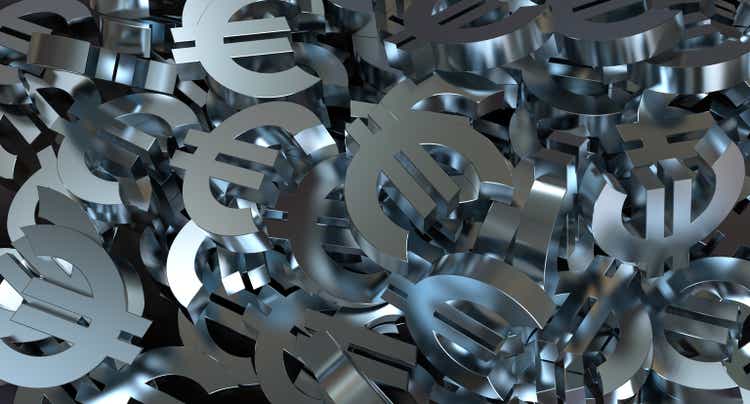 Pressure on the euro and the U.K. pound will continue, with little to spur buying interest after a sharp selloff to start the week, according to Societe Generale.
Here "we are, with recession fears firmly to the fore, UK monetary policy in a pickle, the UK government in a crisis that rolls on and on to an inevitable conclusion," Kit Juckes, FX strategist at SocGen, wrote in a note Wednesday. "The big drivers of markets are evolving slowly."
"Europe's energy dependency on Russia is falling, but not fast enough to avoid recession if the pipeline is closed," Juckes said. "If that happens, EUR/USD will likely lose another 10% or so."
That would put the single currency around $0.92, below parity for the first time since late 2002. Th euro (NYSEARCA:FXE) -0.4% is down again today to $1.0225 as it continues to test 20-year lows.
"Take away the gas risk and the euro would be a lot stronger, but we can't do that, any more than we can take away concerns about the ECB's anti-fragmentation policy," Juckes added.
"The euro-supportive power of rate hikes is eroded by the fact that the bond market isn't trusted to stand on its own two feet, and the ECB's credibility is damaged by having over-reacted to a spike yields and spreads that was nothing more than a normal response to higher US yields and wider credit spreads globally," he said.
"The euro loses out, remains effectively unbuyable this summer. It's so unbuyable that a major political crisis in the UK isn't enough to drive EUR/GBP higher!"
Sterling (NYSEARCA:FXB) -0.2% is also lower at $1.1938 in the wake of two cabinet officials resigning from Prime Minister Boris Johnson's government.
"Johnson has indicated he plans to stay on and has appointed replacements for the outgoing ministers, but his position looks increasingly perilous given the lack of party support," Deutsche Bank's Jim Reid wrote. "The pound was -1.41% lower versus the US dollar (Tuesday), but most of the decline took place before the news of the resignations and the pound was actually in the middle of the pack for G10 currency performance on the day, with the broader risk environment proving more perilous."
"If the PM can stay on he will likely pivot towards easier fiscal policy now the Chancellor has resigned. However it's tough to price that in as it's not clear whether the PM can survive this episode."
Johnson named former education secretary Nadhim Zahawi as finance minister late yesterday.