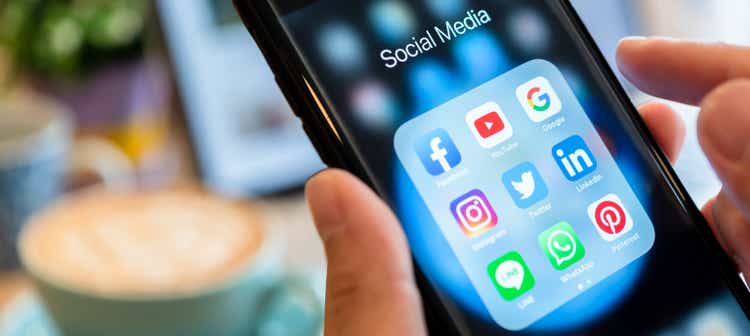 Meta Platforms (NASDAQ:META) and Alphabet (NASDAQ:GOOG) (NASDAQ:GOOGL) slipped on Wednesday as investment firm Guggenheim cut earnings estimates and price targets on both companies, citing a "more modest" advertising environment through next year.
Analyst Michael Morris noted that after speaking with industry players, there is some "incremental softness" in advertising demand, though it's unclear at this point just how much there is.
In addition, there are likely to be macro-related headwinds in the second half of the year that result in a pullback in digital ad spend, suggesting that total 2022 spend growth will lag that seen in 2021. It's also expected that ByteDance's (BDNCE) TikTok will continue to take share of the overall digital ad mix, "particularly from the bottom tier of ad budgets," Morris pointed out.
Morris cut the price target on Alphabet (GOOG) (GOOGL) to $2,700 from $3,000, noting it is trading at a 15% discount to the current multiple of Microsoft. The analyst expects the tech giant to be a resilient player in the advertising space, given its diverse inventory and broad base of advertisers, but added that YouTube ad revenue growth should be "materially slower" than in the past.
The analyst lowered the price target on Meta Platforms (META) to $205 from $250, citing a lower market multiple for the Nasdaq 100.
"We believe investors will debate incremental usage and advertiser and regulatory headwinds vs. the company's unique consumer scale, leading advertising platform, and financial and technological resource advantages," Morris wrote, adding that shares are now "attractively priced."
Morris also noted that Pinterest (PINS) and other "less-scaled digital advertising platforms" are likely to be at greater risk if ad spend should come down, but the analyst left the firm's $22 price target on the stock unchanged.
On Tuesday, investment firm Barclays cut the respective price targets on Alphabet (GOOG) (GOOGL), Meta Platforms (META), Pinterest (PINS) and Snap (SNAP), citing a "perfect storm" in digital advertising amid increased competition and structural headwinds.