Riot Blockchain mines 421 bitcoins in June, sells 300 for $6.2M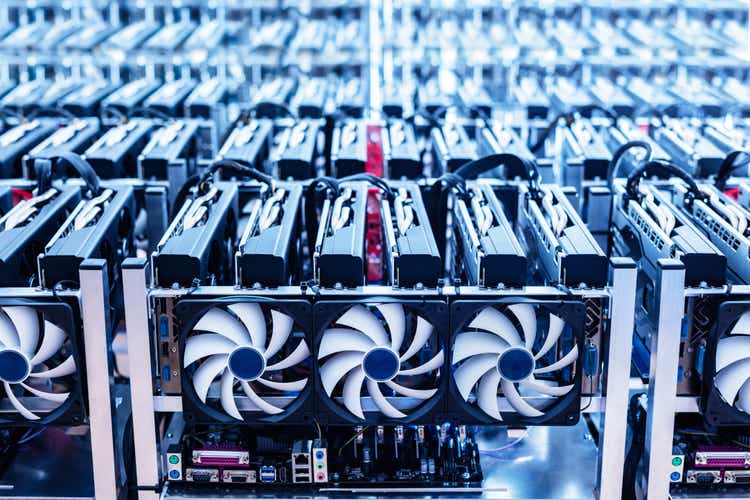 Riot Blockchain (NASDAQ:RIOT) said Wednesday that it mined 421 bitcoins (BTC-USD) in June, down from 466 in May but up from 243 in June 2021.
The bitcoin (BTC-USD) miner, meanwhile, sold 300 bitcoins for net proceeds of approximately $6.2M. Core Scientific (CORZ) also sold 7,202 BTC for ~$167M in June.
It holds ~6,654 bitcoins (BTC-USD) as of June 30, and has a deployed fleet of 42,455 miners with a hash rate capacity of 4.4 exahash per second ("EH/s").
Going forward, Riot (RIOT) is expecting total hash rate capacity of 12.5 EH/s, assuming full deployment of approximately 115,450 Antminer ASICs, down from 12.6 EH/s in the prior view.
As for its Whinstone Facility expansion project, it "now continues on to our second immersion-cooled building, Building G, where the initial miners are deployed and hashing," said Riot CEO Jason Les. Also, Air-cooled Buildings D and E are advancing towards completion, and the installation of the roof on Building E is now complete.
In an effort to reduce operational costs, Riot (RIOT) has started transitioning all of its miners hosted at Coinmint's Massena, New York facility. Ultimately, miners will be relocated to its Whinstone Facility in addition to a miner swap agreement which Riot entered into with another bitcoin (BTC-USD) mining counterparty.
Note that Riot's (RIOT) annual general shareholders meeting, where shareholders will be able to vote their shares, is scheduled for July 27th at 8:00 a.m. CT (9:00 a.m. ET).
Previously, (June 2) Riot Blockchain mined 466 bitcoins in May, lowers 2023 hash rate guidance.