Base metals, miners jump as China weighs big stimulus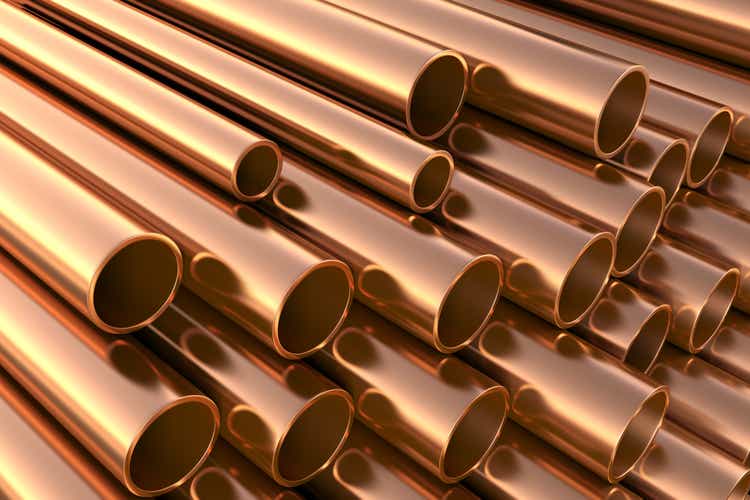 Base metals and related equities look poised for a strong rebound Thursday after recent declines, as China reportedly is considering a $220B stimulus package to boost its economy.
Bloomberg reported that China might allow local governments to sell bonds to raise money for infrastructure spending, which could pull in as much as $220B.
According to Reuters, benchmark copper on the London Metal Exchange (HG1:COM) recently traded +4.1% at $7,829/metric ton, after prices touched a 20-month low of $7,291.50/ton on Wednesday.
Prices also are higher for LME aluminum, zinc, nickel, lead and tin.
Relevant stocks are indicated sharply higher in the U.S. pre-market, including (NYSE:FCX) +3.9%, (TECK) +4.3%, (SCCO) +2.1%, (HBM) +2.9%, (RIO) +3.4%, (BHP) +3%, (VALE) +3.4%, (MT) +2.4%, (CLF) +2.7%, (X) +3%, (NUE) +2%, (NYSE:AA) +4.6%, (CENX) +8.1%, (ARNC) +2.1%.
Anglo American (OTCQX:AAUKF) (OTCQX:NGLOY) and Glencore (OTCPK:GLCNF) (OTCPK:GLNCY) each gain as much as 8% in European trading.
ETFs: (COPX), (CPER), (JJC), (JJCTF)
"A timely and decisive rollout of stimulus measures (over and above what has been announced) from China is required to support prices at current levels," Citi analysts said. "Without it, prices will grind lower."
"Copper is most exposed to an economic slowdown and prices could fall below $6,000/ton in the coming months in our base case," Bank of America analysts wrote. "If Europe runs out of gas, a risk, prices could decline to $4,500/t."
Spooked by recession fears, copper prices plunged more than 20% in Q2, the metal's biggest quarterly decline since 2011.