Amazon-Grubhub deal disrupts thinking around the online food delivery sector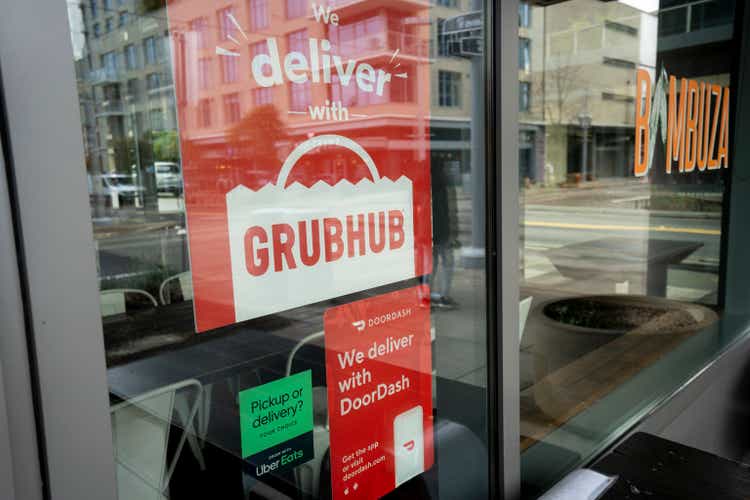 Amazon (AMZN) traded 1.69% higher on Thursday as investors continue to digest the e-commerce giant's decision to enter into a commercial agreement with Just Eat Takeaway.com N.V. (OTCPK:TKAYF) in the U.S. in which Amazon Prime members can sign up for a free, one-year Grubhub+ membership and access free delivery from restaurants on Grubhub. Amazon also lands warrants in the deal valued at over 2% of Grubhub with upside to 15% if certain performance conditions are met.
Morgan Stanley noted the Grubhub deal follows an agreement between Deliveroo and Amazon in the UK giving Prime Members a free Deliveroo Plus membership for a year.
"By adding access to free food delivery for Prime members, AMZN is furthering the suite of prime benefits beyond free shipping, video, music, etc. which we view as particularly important as AMZN looks to retain its Prime Subs and Prime spending as we enter a period of potentially slowing consumer spend," analyst Brian Nowak.
Morgan Stanley sees AMZN's continued push into food delivery as an incremental competitive risk to DoorDash (DASH) and Uber Technologies (UBER), but nothing resembling a death blow.
Needham analyst Bernie McTernan thinks the actual result on DASH and UBER will be dependent upon how aggressive AMZN is in marketing the partnership. He reminded that Grubhub approached AMZN from a position of weakness and Grubhub's expectation is the promo will be neutral to earnings and free cash flow is an indication of a potentially more muted impact on results for DASH and UBER.
Meanwhile, JMP Securities analyst Andrew Boone said his firm would not be surprised to see Grubhub+ lost in the myriad of benefits Amazon provides to its subscribers and Bank of America expects the Amazon/Grubhub incentive program will have little impact on DoorDash's (DASH) near-term growth or margins, with DoorDash already at nearly 60% US market share. The firm does anticipate some overhang for the stock due to the long-term potential for Amazon to re-enter the food delivery industry.
Shares of Just Eat Takeaway.com (OTCPK:TKAYF) fell 0.87% in London trading on Thursday after a big pop on Wednesday. DoorDash (DASH) gained 5.36% to cut into the loss on Wednesday following the Amazon-Just Eat deal announcement and Uber Technologies (UBER) rose 3.79%. Waitr Holdings (WTRH) is down 22.15% after speculative buying action yesterday sent shares up more than 40%.