Bitcoin retakes $21K, bitcoin mining stocks perk up
Jul. 07, 2022 12:53 PM ET
Bitcoin USD (BTC-USD), SI, BKKT, MSTR, NILE, CLSK, RIOT, GREE, CORZ, MARA, HUT, SOS, HUT:CA
By:

Liz Kiesche,

SA News Editor
20 Comments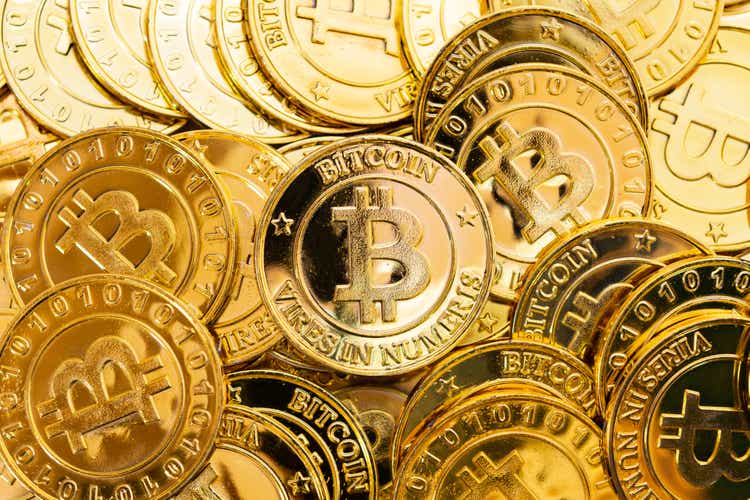 With bitcoin (BTC-USD) steadying and holding above the $20K level, bitcoin mining stocks are climbing in Thursday afternoon trading in the wake of posting June production numbers. The world's largest cryptocurrency by market cap is up 4% over the past 24 hours to $21.0K.
Marathon Digital (NASDAQ:MARA), which hasn't yet announced its June mining numbers, is surging 14%. Hut 8 Mining (NASDAQ:HUT) stock is jumping 12%. It mined 328 bitcoins (BTC-USD) in June, up 6% from May and averaging 10.9 tokens per day.
While Thursday's stock action looks strong, the lot has come off of a rough couple months as seen in this chart. For example, Marathon (MARA) has dropped 77% in the past six months.
Other strong movers include: Riot Blockchain (NASDAQ:RIOT) +11%, Core Scientific (NASDAQ:CORZ) +11%, Greenidge Generatlon (NASDAQ:GREE) +11%, BitNile Holdings (NYSE:NILE) +7.8%, and CleanSpark (NASDAQ:CLSK) +8.0%. SOS Holdings (NYSE:SOS), though, is one of the few crypto stocks in the red, slipping 1.2%.
Most crypto-linked stocks are also climbing with MicroStrategy (NASDAQ:MSTR) gaining 10%, Coinbase Global (+7.0%), Bakkt Holdings (NYSE:BKKT) +4.2%, and Silvergate Capital (NYSE:SI) +4.0%.
Earlier, Silvergate reiterated Buy at BofA on 'relatively stable' digital currency deposit growth