Iveric Bio price target raised at Morgan Stanley ahead of clinical data in Q3
Iveric Bio (NASDAQ:ISEE) garnered gains until noon trading today after Morgan Stanley raised its price target on the stock to $30 from $25 amidst favorable risk/reward ahead of Phase 3 GATHER2 Data in Q3 of 2022.
Iveric said it expects

data from a second phase 3 trial, dubbed GATHER2, of Zimura for GA in Q3 2022 and if results are positive it will file for U.S. and EU approval of of Zimura for GA.

Quick look at company's pipeline: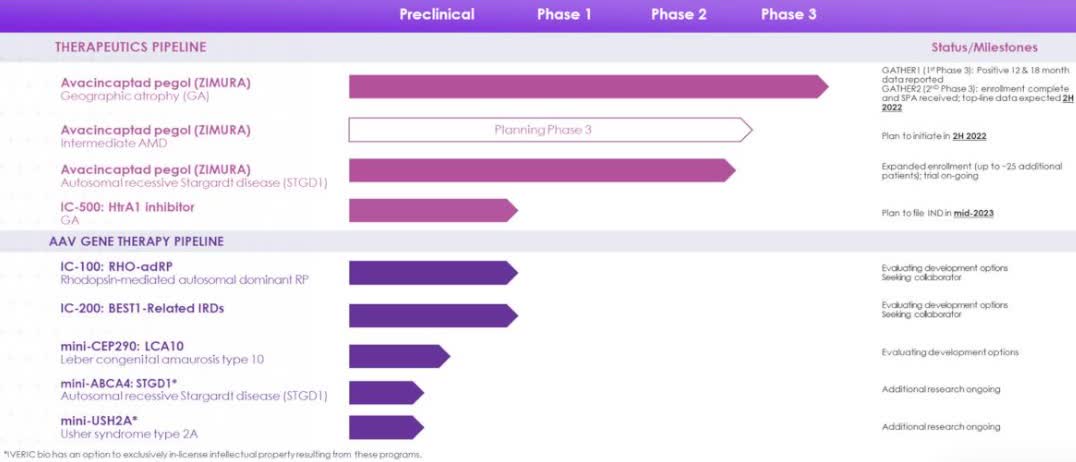 The rating agency maintains its overweight rating.
GATHER2study has progressed ahead of expectations (completed enrollment 4mo ahead of expectations) and multiple factors provide further de-risking, including: high injection fidelity (>90%), a special protocol assessment, target validation (complement pathway), and confirmation of study population (extrafoveal patients).
The rating firm believes any disappointing results would lead to a significant downside to the stock price.
Of the 11 Wall Street analysts covering the stock, 7 have rated it a Strong Buy while 3 assigned it Buy rating.
In past 1-month trading, the stock gained 6.5% while past 5-day it showed a 24.7% growth.