Marathon Digital bitcoin production falls for third straight month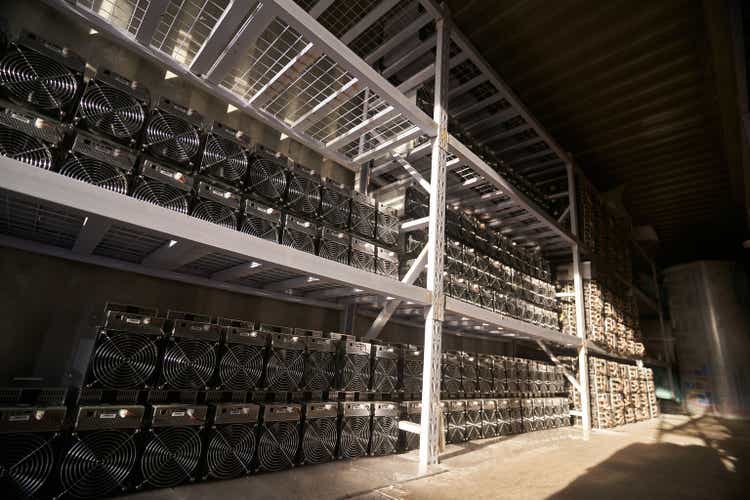 Marathon Digital (NASDAQ:MARA) shares are drifting down 3.7% in Thursday after-hours trading, as its bitcoin (BTC-USD) production dips for a third consecutive month. Still, MARA stock jumped 24.1% on the day as bitcoin (BTC-USD) +5.7% climbs firmly above $20K over the past 24 hours.
The bitcoin (BTC-USD) miner has produced 140.1 tokens in June, down from 267.6 in May and 265.6 in June 2021, according to its monthly update.
The slump in mining growth comes as "we continued to work through several operational obstacles as we progressed with installing miners in Texas in preparation of energization," said Marathon Digital CEO and Chairman Fred Thiel. Also, its mining facility in Hardin, Montana had lost power in June after a storm passed through the region.
As a result of the storm, Marathon Digital's (MARA) current operating fleet was reduced to ~6.3K active miners producing 0.7 exahash per second ("EH/s").
It's holding a total of 10,055 bitcoins (BTC-USD) on its balance sheet with a fair market value of $198.9M.
The company had approximately $88.7M cash on hand and liquidity, defined as unrestricted cash and available credit facilities, was ~$153.7M.
"Despite the current operational challenges, we are working to capitalize on hosting opportunities and are actively engaged with various hosting providers," Thiel said.
Previously, (June 11) Marathon Digital bitcoin mining growth softened in May.