Tens of millions of COVID-19 shots being thrown away as demand drops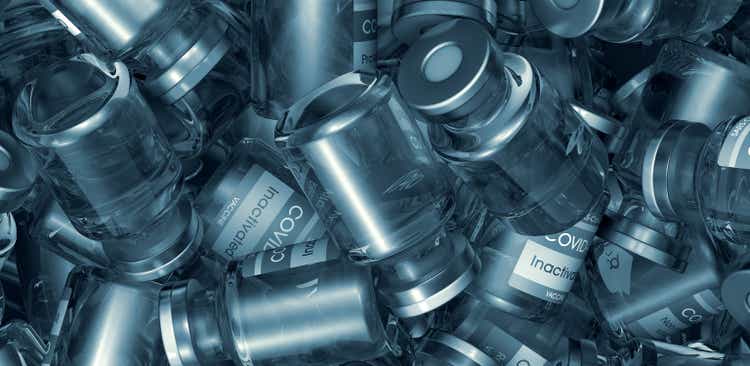 Amid declining demand, tens of millions of COVID-19 vaccines are being discarded by drugmakers, governments, and vaccination sites, a sharp contrast from the early days of the immunization drive when shots were in short supply.
According to The Wall Street Journal, vaccine maker Moderna (NASDAQ:MRNA) recently threw away about 30M doses of its messenger RNA-based shot as procurements dropped amid the waning impact of the pandemic.
"We are now throwing doses in the garbage," Moderna (MRNA) Chief Executive Stephane Bancel said in May at the World Economic Forum in Davos, Switzerland. "It's sad to say."
According to the Centers for Disease Control and Prevention (CDC), about 90.6M COVID-19 vaccine doses have gone to waste in the U.S. That is about 11.9% of the more than 762M vaccine doses delivered since the vaccination drive began in late 2020.
The disposals have risen recently, with 12M doses discarded since late May even as younger children in the U.S. became eligible for COVID-19 vaccines. In June, the regulators cleared COVID-19 shots for kids as young as six months.
The U.S. is not the only country facing the issue. Germany deposed about 3.9M COVID-19 vaccine doses that expired at the end of last month.
Canada has thrown out 1.2M expired doses of the Moderna (MRNA) vaccine, and the country plans to discard about 13.6M doses of AstraZeneca (AZN) COVID-19 vaccine, according to the government health department.
Health experts cite vaccine packaging as another reason for wastage. The multi-dose vials containing five – 20 doses should be used within about 12 hours once opened, or the remaining doses should be discarded if there are not enough recipients.
Pfizer (PFE), which introduced the first FDA-approved COVID-19 vaccine in partnership with BioNTech (BNTX), is planning to develop a single-dose vial.
Even as the demand for first-generation COVID-19 vaccines drops, regulators in the U.S. and Europe have advised drugmakers to develop modified COVID-19 shots in anticipation of booster campaigns in the fall.