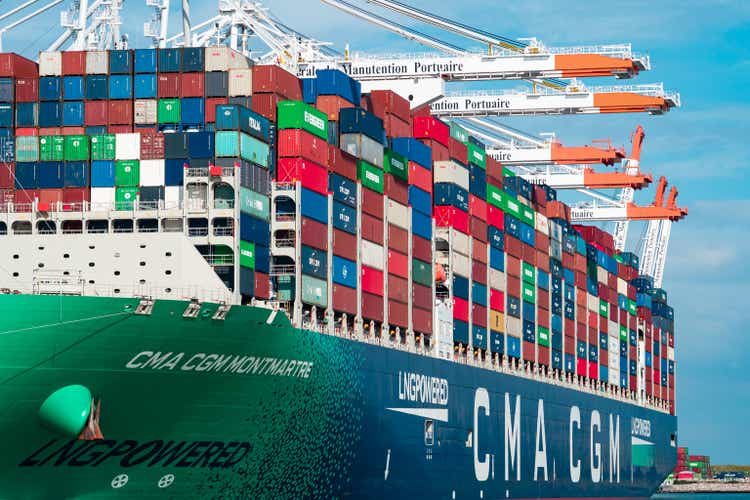 The retail industry could see another supply chain headache during the back half of the year and into the holidays as rail congestion at West Coast ports remains elevated and labor issues are unresolved.
Berkshire Hathaway (BRK.A) subsidiary BNSF and Union Pacific (NYSE:UNP) are both reported to be seeing slowdowns in loading freight at West Coast ports. The dwell time for a container bound for rail is 7.5 days at the Port of Los Angeles and a little over 8 days at the Port of Long Beach.
Retailers are adjusting on an individual basis when they can by sending more freight to the East Coast, including to the Port of Norfolk and Port of Savannah.
Imports set another record high in the spring as retailers stocked up ahead of the expiration of the dockworkers' West Coast labor contract, according to a report issued by the National Retail Federation and Hackett Associates.
Ports have not yet reported numbers for June, but NRF's Global Port Tracker projected activity to be up 4.8% Y/Y to 2.25M TEU. For the first half of the year, port activity was forecast to be 5.4% higher to 13.5M TEU.
"Cargo volume is expected to remain high as we head into the peak shipping season, and it is essential that all ports continue to operate with minimal disruption," noted NRF Vice President for Supply Chain and Customs Policy Jonathan Gold said. "Supply chain challenges will continue throughout the remainder of the year, and it is particularly important that labor and management at West Coast ports remain at the bargaining table and reach an agreement," he added.
Even though a key contract between the International Longshore and Warehouse Union and the Pacific Maritime Association expired on July 1, cargo operations have continued.
Looking ahead, port activity is actually forecast to fall off a bit from last year's level due to retailers pulling some freight forward, but will still be at an elevated level compared to two years ago and three years ago. There is also another wildcard in the mix with Class I freight railroads and twelve different rail unions still embroiled in a labor dispute that started in 2020 and is currently in a 30-day cooling off period. The National Mediation Board scheduled a public interest meeting on July 12 to continue the effort to avoid what would be a devastating strike by rail workers down the road.
Some of the biggest importers of freight via ocean transport are Walmart (WMT), Target (TGT), Home Depot (HD), Lowe's (LOW), Ashley Furniture, Dole Food, Samsung America, Dollar Tree (DLTR), Chiquita Brands International, and Nike (NKE).