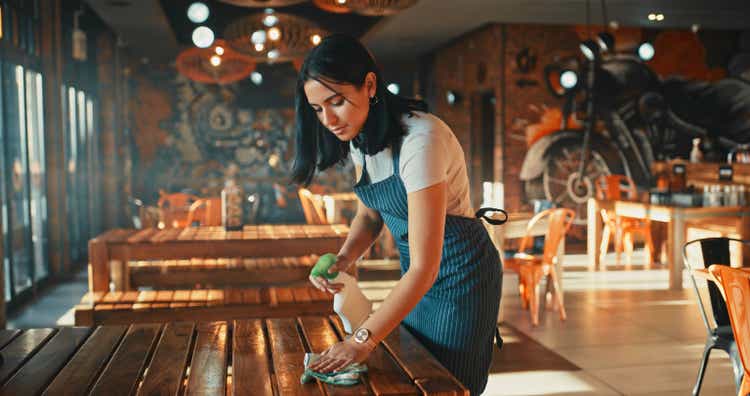 As recession risks rise and come to loom over the consumer discretionary space, restaurant stocks have been among the hardest hit.
In recent weeks, key names like Darden Restaurants (NYSE:DRI), BJ's Restaurant (BJRI), Chipotle Mexican Grill (NYSE:CMG), and Cracker Barrel (CBRL) have hit 52-week lows. While trending above yearly lows, other major decliners of late include Wingstop (NASDAQ:WING), Cheesecake Factory (CAKE), and Brinker International (EAT).
According to Citi, the industry's highest level of inflation in a decade as well as declining consumer sentiment serve as a recipe for continued struggles in the space. However, as valuations contract, there is a lively debate emerging over whether now is the time to start buying beaten down restaurant stocks or if a raincheck is in order.
Increasing Concerns About Consumers
One of the first voices to call for investors to avoid discretionary stocks, and especially restaurants, was Morgan Stanley CIO Mike Wilson.
Having held a bearish outlook for far longer than most on Wall Street, Wilson voiced his forecasts for inflationary demand destruction and margin pressure most vocally in April. He advised clients to avoid consumer discretionary names that are likely to be hit by higher costs and weaker consumers less eager to spend.
Since that warning, restaurants have indeed largely underperformed already-flagging major indices. Further, recent advance sales data from the Census Bureau revealed falling traffic to U.S. restaurants, suggesting consumers may finally be tightening their belts on some more discretionary purchases. The food-away-from-home category increased 0.7% in the latest CPI report, reflecting a 7.4% jump from the prior year. This is projected to only continue as labor inflation as well as meat, poultry, and other key product costs continue to increase.
"Price increases for food at home and food away from home are expected to exceed historical averages and the inflation rate in 2021," a recent USDA report stated.
The report added that pandemics impacting both chicken and pig populations across the world are likely to exacerbate these increased costs into the year-end. Poultry prices are now predicted to increase by up to 14% in 2022 due to these impacts while egg prices could climb over 20%.
For subsectors within the restaurant industry, analysts have advised that pain felt from these impacts are likely to be particularly outsized.
"We are becoming increasingly concerned about the near-term setup for the most discretionary
sub-segments of the industry (e.g., casual dining)," Baird analyst David Tarantino told clients in a research note published July 5. "The recent slowdown in our casual dining survey data has corresponded with a deterioration in some of the macro variables that have correlated well to discretionary spending in restaurants historically, including consumer confidence, gasoline prices, housing-market indicators, and stock market volatility."
For poultry-focused enterprises like Wingstop (WING), larger checks are also likely to augment demand.
Bargain Hunting at at Bottom?
However, the myriad concerns raised by inflation reports, USDA forecasts, and softening consumer trends are already priced in by recent declines according to more optimistic analysts.
"Restaurant valuations at or near a trough, in our view," Jefferies analyst Nick Setyan told clients on Friday. "Looking back at franchised and company-owned restaurant valuations through the financial crisis and through the COVID crisis, we believe current valuations provide a very attractive reward vs. risk proposition."
While he admitted that some target trimming is prudent on individual names, he said that many names are likely to be resilient in a recessionary scenario and the space overall is attractive in his view. In fact, he noted that the quick service restaurant space that includes Restaurant Brands (QSR), McDonalds (MCD), and Wendy's (NASDAQ:WEN) have proven to drive gains in a recessionary scenario.
"A recession is what every restaurant investor should hope for," Setyan said. "Similar to '08, we
expect price increases to soften the impact on overall comps from transaction declines and to
drive healthy margin increases as food costs fall and labor inflation eases."
His analysis of strong trends within the recessionary scenario were backed up by a recent analysis by Bank of America analysts Sara Senatore and Katherine Griffin. In their analysis, the historical performance of both Texas Roadhouse (TXRH) and Darden Restaurants (DRI) as top picks.
"The demand backdrop for Darden is benign if not favorable, in our view, as industry capacity, income, and food budget share shifts have tilted in favor of full service restaurants post-pandemic," the team wrote. "Darden is well-positioned to capture volume growth in all forms, whether it comes from off-premise channels or pent-up demand for both affordable and indulgent dining occasions."
Elsewhere, Jefferies also pointed to Chuy's (CHUY), The ONE Group hospitality (STKS), Wingstop (WING), and Dine Brands (DIN) as the most compelling opportunities. Meanwhile, pullbacks for both Papa John's (OTC:PAPA) and Chipotle (CMG) made them each reasonably priced for growth at present, according to the firm.
Fear at its Peak?
Finally, Jefferies' Setyan suggested that signs of an inflation peak are poking through as commodity costs come down precipitously.
"We believe upward revisions in labor and other restaurant expenses are largely over," Setyan wrote. "There are early indications that food costs, and commodities in general, may have peaked in early June as signs of a consumer slowdown increase and ever-higher probabilities of a recession get baked in."
Indeed, futures for U.S. soybean, corn and wheat all fell to multi-month lows as of late ahead of demand deterioration expectations. Jefferies pointed to all of these inputs not only as food products, but key feed products that are likely to fuel pullbacks in pork, chicken, and beef prices.
It is also worth noting that inflation in these products also ripples through to grocery costs, which have actually inflated at a faster pace than food away from home in recent CPI reports. The USDA also expects this quicker pace to continue into the coming quarters.
In the end, the host of contrasting factors leaves investors with a key question as to whether a market downturn is a good or bad thing for restaurant stocks and which names in the popular sector are most promising.