Twitter facing a 'disaster scenario' as Elon Musk says he is terminating $44B acquisition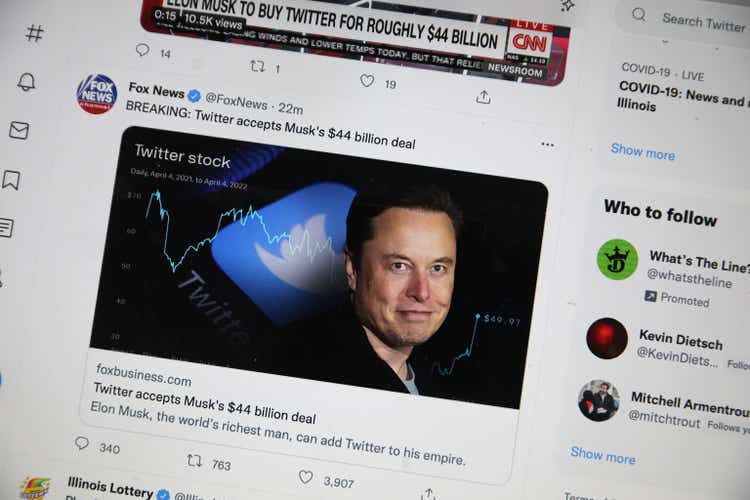 Reaction to Elon Musk saying he was terminating his $44B acquisition on Twitter (NYSE:TWTR) was swift, Friday, with the social-media company being seen as wounded and staggering and likely headed to court against the Tesla (TSLA) chief executive.
"This is a disaster scenario for Twitter and its board," said Wedbush Securities analyst Dan Ives. "Now, the company will battle Musk in an elongated court battle to recoup the deal and/or the breakup fee of $1B, at a minimum."
Shortly after U.S. stock markets closed, officials representing Musk said in a filing with the Securities and Exchange Commission that Musk was terminating his acquisition plans due mostly to an inability to come to a resolution over the matter of Twitter's (TWTR) number of fake, spam or bot accounts. Musk has argued for weeks that Twitter (TWTR) was able to fully confirmed that the number of such accounts equaled less than 5% of the company's total user base.
"Twtter has failed or refused to provide this information," said Musk's representatives in their SEC filing. "Sometimes Twitter has ignored Mr. Musk's requests, sometimes it has rejected them for reasons that appear to be unjustified, and sometimes it has claimed to comply while giving Mr. Musk incomplete or unusable information."
Twitter (TWTR) shares fell more than 5% in Friday's regular trading session, to end the week at $36.81--or more than 31% less than the $54.20-a-share price of Musk's original buyout agreement in April. Following Musk's termination announcement, Twitter (TWTR) share fell more than 6% in Friday's after-hours trading session.
And there could be more blood spilled when U.S. stock markets open on Monday.
Ives said that he believes Twitter's (TWTR) stock will trade in the $25 to $30-a-share range on Monday as Musk's original $44B price tag for Twitter (TWTR) "never made much sense to the Street." Ives said that for now the deal has "a Twilight Zone ending with Twitter's board back against the wall."
On Thursday, Twitter (TWTR) tried to alleviate Musk's concerns by saying its efforts show that bots make up less than 5% of its total user accounts.