Microsoft falls as Oppenheimer cuts price target, tech giant seen giving cautious outlook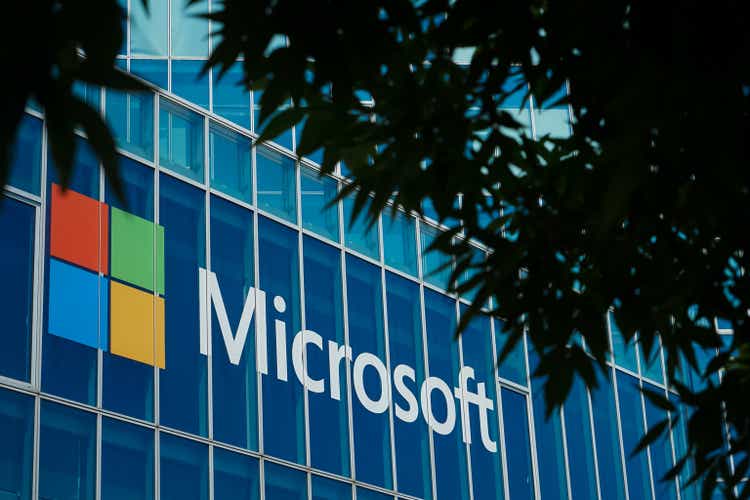 Microsoft (NASDAQ:MSFT) shares fell on Monday as investment firm Oppenheimer cut its price target on the tech giant, noting it expects a more cautious outlook when it reports quarterly results later this month.
Analyst Timothy Horan lowered his price target to $300 from $340, but still kept the firm's outperform rating, noting that there is likely to be some slowdown in Microsoft's (MSFT) More Personal Computing segment, which accounts for 32% of revenue and includes Windows, devices and gaming. There is also likely to be a slowdown in search and advertising revenue, though that may be partially offset by the acquisition of Xandr, which closed on June 6.
Horan also noted that he now expects the Activision Blizzard (ATVI) merger to not be accretive until fiscal 2024 -- compared to a prior outlook of fiscal 2023 -- due to continued looks from regulators around the world. "However, we think it will almost surely be approved," the analyst wrote.
Microsoft (MSFT) shares fell slightly more than 0.5% to $265.58 in premarket trading.
After Microsoft (MSFT) cut its forecast last month, citing foreign exchange headwinds, Horan noted the economic climate has continued to get murkier.
However, a harder economic climate could help Microsoft (MSFT) as it consolidates its position in growth adjacencies, with competitors weakening, getting better access to talent and enterprise customers become "increasingly attracted to the company's compelling value proposition on bundled offerings."
Last week, investment firm Piper Sandler cut its estimates on Microsoft (MSFT) due to continued foreign exchange headwinds that are likely to persist.