'Thor: Love and Thunder' hammers box office with $143M opening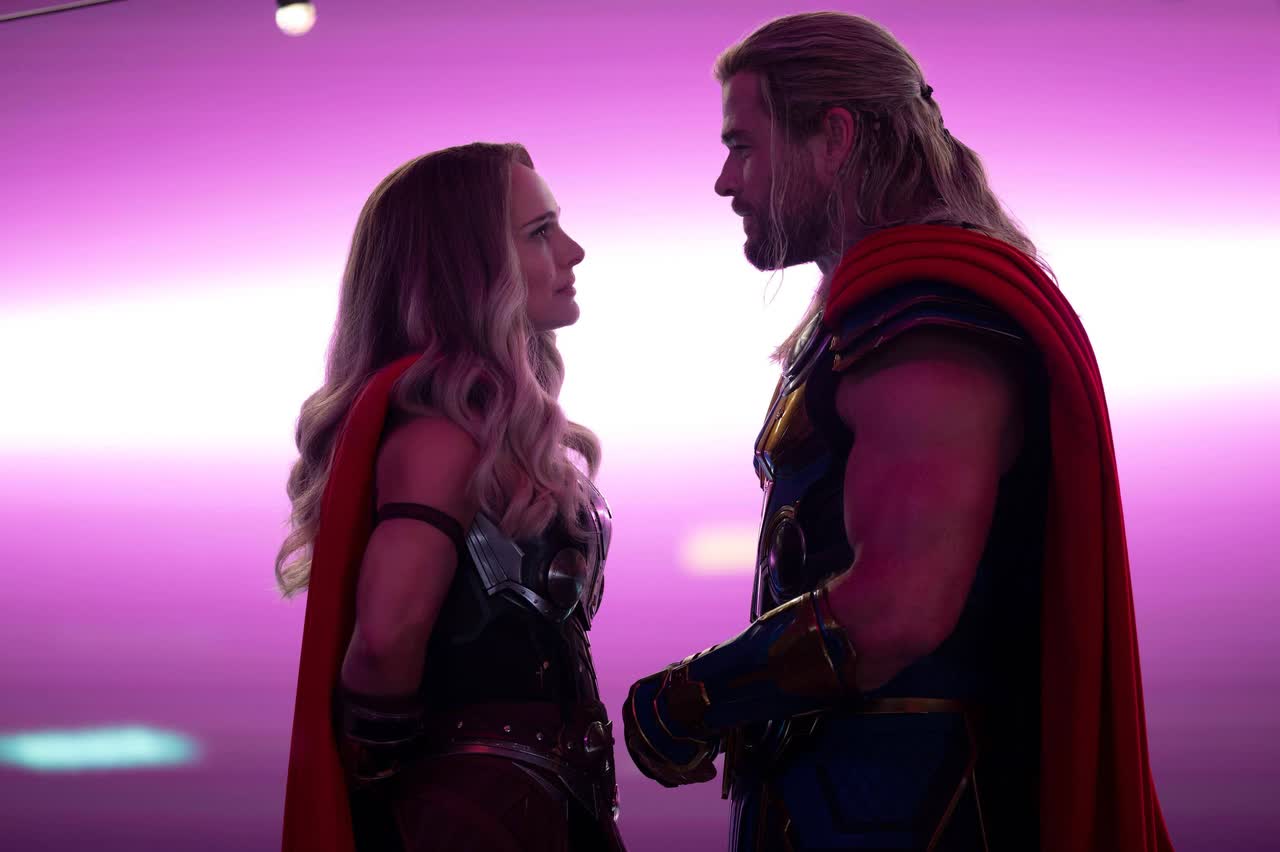 Thor: Love and Thunder (NYSE:DIS) hammered the box office with the franchise's best opening yet, becoming the top draw at North American movie theaters and setting up a blockbuster battle for the rest of July's moviegoer dollars.
The film opened to $143M, keeping up a healthy buzz not only for the Marvel Cinematic Universe, but also for tentpole releases in general this summer. It fell short of the $187M May opening of Doctor Strange in the Multiverse of Madness (DIS), but topped the opening of Thor: Ragnarok, which debuted with $122.7M in 2017.
As expected, it was trailed by Minions: The Rise of Gru (NASDAQ:CMCSA), which fell off about 57% to $45.6M - but stretched its domestic cumulative gross to $189.8M, and is on the edge of $400M worldwide.
And while Top Gun: Maverick (NASDAQ:PARA) (PARAA) saw an uncharacteristic 40% week-over-week drop in business - to $15.5M, good enough for third place on the weekend - that came in the film's seventh week of release. At $597M domestic, the year's top film is knocking on the $600M door, and another couple of weeks is likely to push it past $620M and into the all-time top 10.
Internationally, Maverick has added another $586.2M to reach a worldwide total of $1.184B. (It's made Paramount (PARA) (PARAA) the best-performing studio so far.)
The top five was rounded out by Elvis (WBD), with $11M in its third week pushing it closer to a total $100M, and Jurassic World Dominion (CMCSA), which dropped off to $8.4M in its fifth week but passed the $350M cumulative mark.
And don't be surprised to see that top five continuing to make bank for a few more weeks, as the pace of summer blockbuster releases starts to fall off. Next weekend's wide releases bring a drama adaptation with Where the Crawdads Sing (SONY); a light comedy in Marcel the Shell With Shoes On (A24), and a modest family film entry in Paws of Fury: The Legend of Hank (PARA) (PARAA).
On the exhibitor side of the equation, that blockbuster stack-up led AMC Entertainment (AMC) to lay claim to its busiest weekend of the year at home and abroad. The theater's global admissions revenue outpaced the same weekend in 2019 by about 12% (and 14% domestically), the company says, with more than 5.9M moviegoers. With the broad market lower, AMC is still -2.2% Monday.
And blockbuster-friendly IMAX (IMAX) drew $23M worldwide with showings of Thor: Love and Thunder, with $13.8M in North America (about 10% of domestic box office). That meant $9.2M in international IMAX box office.
Other exhibitors: Cineworld (OTCPK:CNNWF); Cinemark (CNK); Marcus (MCS); Reading International (RDI); Cineplex (OTCPK:CPXGF); National CineMedia (NCMI).