Hot Stocks: Macau casino stocks fall; DOCN downgrade; TEVA legal trouble; PLRX soars 160%; MUSA sets high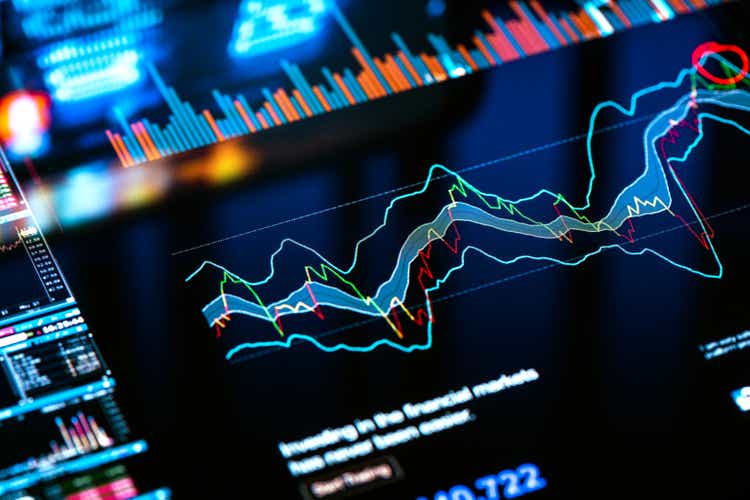 General caution ahead of the upcoming earnings season weighed on stocks during Monday's trading. The major U.S. equity averages retreated, led by a 2% slide in the Nasdaq.
Gaming stocks with heavy exposure to China's Macau market were among the standout decliners on the session. New COVID restrictions spurred selling in stocks like Melco Resorts & Entertainment Limited (MLCO), Las Vegas Sands (LVS) and Wynn Resorts (WYNN).
The list of decliners also included DigitalOcean (NYSE:DOCN), which posted a double-digit percentage decline following an analyst's downgrade. Meanwhile, Teva (TEVA) fell to a new 52-week low amid renewed legal pressure related to the opioid crisis.
Looking to the upside, Pliant Therapeutics (PLRX) more than doubled after the release of new clinical trial data. At the same time, Murphy USA Inc. (MUSA) extended its recent march higher, securing a new 52-week high.
Sector In Focus
A renewed outbreak of COVID in China led to a shutdown of Macau casinos. As a result, stocks related to the region's gambling industry suffered a major setback.
The retreat came as the number of cases jumped to a level above 1,500. This led Chinese authorities to put restrictions back into place, including the closing of casinos.
On the news, Melco Resorts & Entertainment Limited (MLCO) was among the hardest hit in the sector, with shares falling nearly 10%. Las Vegas Sands (LVS) and Wynn Resorts (WYNN) both fell more than 6%.
Standout Gainer
The release of clinical trial data prompted a wave of buying in Pliant Therapeutics (PLRX). Shares skyrocketed almost 160% after hitting the goals for a mid-stage trial of its PLN-74809 product.
The drug is being tested in idiopathic pulmonary fibrosis. The company said PLN-74809 met the primary and secondary endpoints in a Phase 2a study.
PLRX surged $14.12 to finish at $23. With the advance, the stock continued a recovery that began in May, when shares reached an intraday 52-week low of $3.96.
Monday's rally helped cut losses posted since early last year. The stock recorded its highest close since last August. However, shares remain 17% lower for the past 12 months.
Standout Loser
DigitalOcean (DOCN) endured significant selling pressure after Morgan Stanley slashed its rating on the stock. Shares of the cloud-computing platform dropped 16%.
Morgan Stanley downgraded the stock to Underweight from Equal-Weight, citing a potential slowdown in software spending. Analyst Josh Baer spotlighted the particular risk faced by the company in a tight economy, as it has a heavy reliance on startups and smaller enterprise clients.
Based on the downgrade, DOCN closed trading at $38.76, a decline of $7.53 on the session. With the slide, the stock dipped below a recent trading range to record its lowest close since mid-May.
Shares remain off a 52-week low of $30.05 reached in the first half of May. DOCN, which set a 52-week high of $133.40 in November, has fallen about 49% in 2022.
Notable New High
Gas station operator Murphy USA Inc. (MUSA) has seen significant strength so far in 2022, with higher gas prices helping to fuel the advance. The gains continued on Monday, with MUSA climbing another nearly 5% to reach a new 52-week high.
MUSA advanced $11.66 to close at $266.70 after reaching an intraday 52-week high of $269.70. Shares have been rising steadily since early March, when MUSA traded below $170.
The stock has climbed about 57% since March 8. For 2022 as a whole, MUSA had advanced almost 90%.
Notable New Low
Teva (TEVA) came under renewed legal pressure related to the opioid crisis, a development that sparked a nearly 8% decline in Monday's trading. The slide took the stock to a new 52-week low.
New York Attorney General Letitia James has filed a motion looking to vacate a prior dismissal of a case against the Israel-based Teva (TEVA), claiming the firm misled the court about its part in the U.S. opioid business. TEVA denies the charges.
TEVA finished the session at $6.86, a decline of 57 cents on the day. During the session, the stock reached an intraday 52-week low of $6.78.
Shares have seen wide swings in 2022 but have undergone severe selling pressure since early June. TEVA has fallen about 28% since its close on June 2.
Looking for more of the day's best- and worst-performing stocks? Head over to Seeking Alpha's On The Move section.