Hopes darken for IMF bailout as Sri Lanka spirals into crisis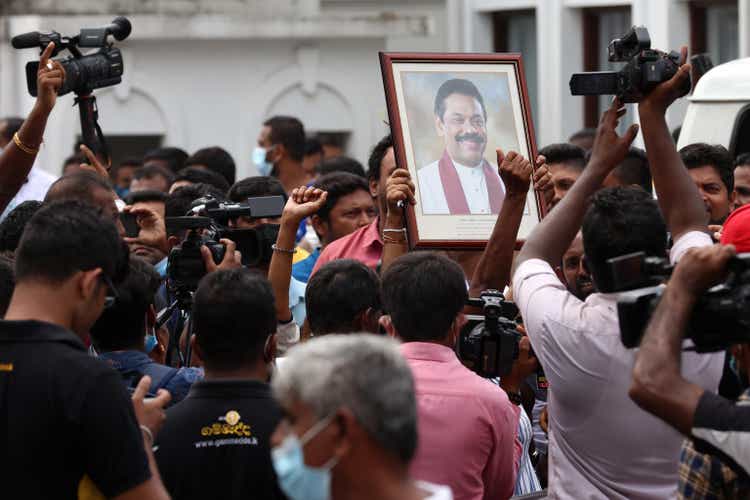 For the past two decades, Sri Lanka had been one of the fastest growing South-Asian countries, and was even touted as a model for a developing economy. However, pictures this week of protestors overrunning the presidential compound, and swimming in the residence pool, show just how far the tide has turned. President Gotabaya Rajapaksa just announced that he will step down, but a political vacuum and the lack of any real reforms means a rescue from the IMF could be thrown into disarray.
Backdrop: Tourism propped up Sri Lanka's economic growth and supply of foreign currency over the past decade, but the 2019 Easter bombings sent its most lucrative industry into a tailspin. Things never fully recovered and COVID-19 was of no further help to the island nation of 22M people. Rajapaksa was elected during this period of economic stagnation, but analysts say his expanding power and financial mismanagement weakened public finances (some examples include populist tax cuts and a ban on chemical fertilizers).
While anti-government protesters angry over shortages of food, gas, medicine and basic goods demanded Rajapaksa step down, he instead invoked emergency powers in an attempt to maintain control. In a span of just two years, Sri Lanka's foreign currency reserves went from $9.2B to just $50M, which is not enough to even cover one day of the country's imports. Daily rolling blackouts are also shutting down businesses and many are fearful of a return to chaos not seen since the three-decade civil war from 1983 to 2009.
Outlook: Sri Lanka could be the first domino to fall in a global economic crisis set to envelop many poorly-managed developing countries. Pakistan is having major problems with its debt, as well as a number of African and Latin nations, spelling trouble across the emerging markets. "With the low-income countries, debt risks and debt crises are not hypothetical," World Bank Chief Economist Carmen Reinhart declared. "We're pretty much already there."