Microsoft likely to fare better than peers in a downturn, but it's 'not immune,' MS says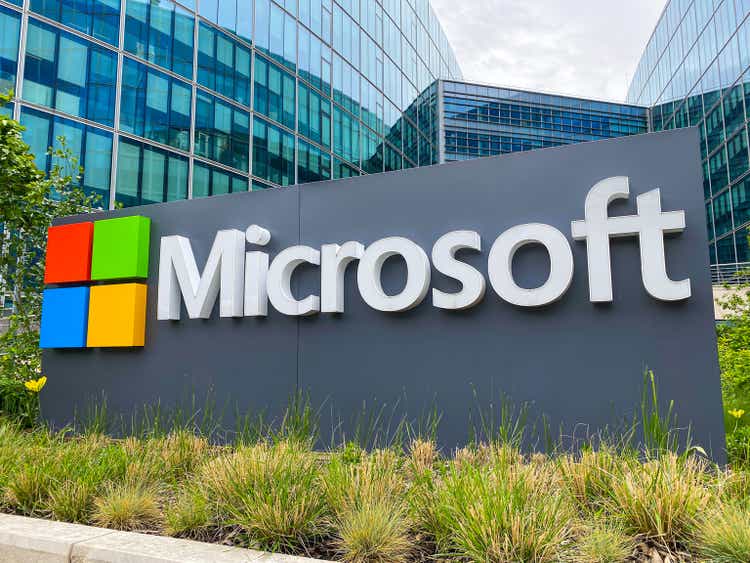 Microsoft (NASDAQ:MSFT) is likely to fare better than some of its peers in the software industry, but the tech giant is "not immune" to the broader global economy, investment firm Morgan Stanley said on Tuesday.
Analyst Keith Weiss, who rates Microsoft (MSFT) shares overweight with a $354 price target, lowered his estimates for fiscal 2023 on concerns over lower consumer spending.
"Net, we see potential for 13% lower revenue and gross profit across our consumer bear case in [fiscal 2023] and 4% in our commercial bear case," Weiss wrote in a note to clients, while noting that commercial is a larger mix and has higher margin, it could have less downside compared to consumer.
Weiss added that a downturn could result in earnings per share being lowered by almost $1 in fiscal 2023.
Microsoft (MSFT) shares fell slightly less than 0.5% to $263.17 in early trading.
Going deeper, Weiss cut estimates on fiscal 2023 for Microsoft's (MSFT) Windows, Surface, gaming hardware and software and service, LinkedIn, search, Office 365 Consumer and Office Consumer.
In a more severe bear case scenario, Microsoft (MSFT) could see even weaker-than-estimated Windows OEM related-revenue due to a longer China shutdown.
"Our hardware team's Monthly Data Tracker indicated that while the supply chain headwinds are easing, they continue to pressure the overall PC market, leading to a reduction of our PC shipment forecasts," Weiss wrote in the note, adding that Gartner recently reported that continued shipment delays in PCs were largely due to component shortages.
Looking at other areas, gaming hardware could see some pressure from extended production shutdowns, while Game Pass could see lower hours played as the COVID-19 pandemic goes on and subscriptions may flatten "as the ecosystem fails to attract more gamers onto the Microsoft platform."
LinkedIn could also see a slowdown in advertiser and customer engagements if the labor market cools down, which could result in lower revenue growth.
Other areas that could also see a hit include search, Office Consumer 365 and Office Consumer.
Azure, however, is likely to keep growing even in a recession, however, Weiss noted.
Separately on Tuesday, The Wall Street Journal reported that Microsoft (MSFT) has started on a campaign in Europe to create allies after it has been accused of abusing its position as the world's second-largest cloud company.
Investment firm Oppenheimer cut its price target on Microsoft (MSFT) on Monday, noting it expects a more cautious outlook when it reports quarterly results later this month.