Inflation fighting ETFs outperform after hot June CPI print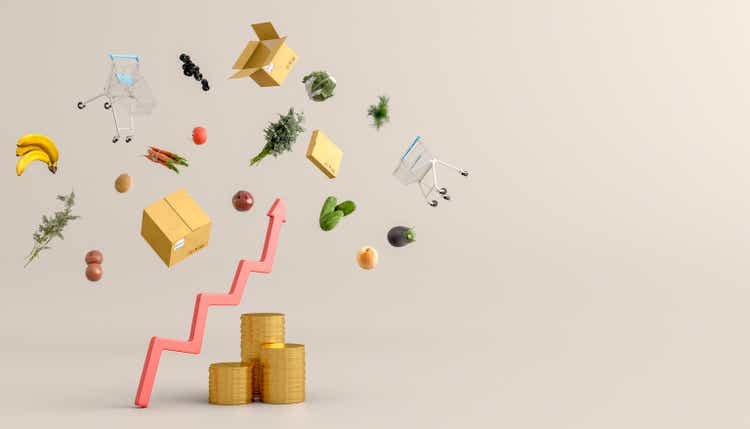 With the latest inflation data coming in hotter than expected, four inflation-fighting exchange traded funds started Wednesday's trading by outperforming the benchmark Dow, S&P and Nasdaq tracking funds.
Four ETFs in focus: SPDR SSGA Multi-Asset Real Return ETF (NYSEARCA:RLY), ProShares Inflation Expectations ETF (NYSEARCA:RINF), VanEck Inflation Allocation ETF (NYSEARCA:RAAX), and the AXS Astoria Inflation Sensitive ETF (NYSEARCA:PPI).
Currently RLY is +0.1%, RINF +1.2%, RAAX +0.1%, and PPI is -0.5%.
Together, all four ETFs in some form or another help deliver financial participants with a degree of shelter in fighting off elevated levels of inflation.
Cumulatively, the four ETFs only have roughly $736M assets under management -- quite small in the world of ETFs. However, these funds have seen a bulk of their assets come in during this year as inflation figures continue to rise. Inflows in 2022 for all four funds equal $530.29M.
To further put these flows into perspective, most of these funds have been around for a long time. PPI represents the exception, launching in 2020. Meanwhile, RLY and RINF were launched back in 2012 and RAAX debuted in 2018.
While trading lower on the year, this group of ETFs has still handily outperformed broad spectrum passive funds like the SPDR S&P 500 Trust ETF (SPY), iShares Core S&P 500 ETF (IVV), Vanguard 500 Index Fund (VOO), Invesco QQQ Trust (QQQ), and the SPDR Dow Jones Industrial Average ETF (DIA).
Year-to-date performance on inflation fighting ETFs: RLY -0.9%, RINF -0.1%, RAAX -5.1%, and PPI -10.6%.
Year-to-date performance on benchmark tracking ETFs: DIA -15.2%, SPY -20.3%, VOO -20.3%, IVV -20.3%, QQQ -28.7%.
Looking at latest inflation figures, headline June CPI rose 1.3% on the month, surpassing estimates of 1.1%. Additionally, it hit an annual rate of 9.1%. Core CPI rose 0.7%, ahead of the 0.6% forecasts, and was up 5.9% y/y. See the complete June Consumer Price Index Report.