Wells Fargo Q2 earnings decline hurt by VC, mortgage, investment banking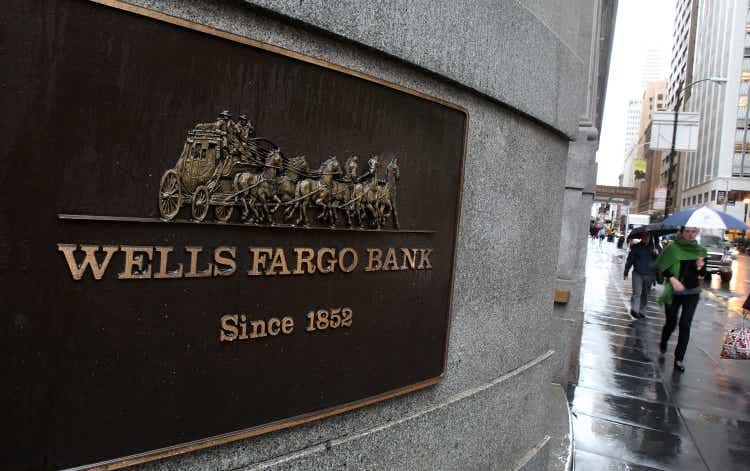 Wells Fargo (NYSE:WFC) Q2 earnings dropped from the previous quarter and a year-ago as weaker financial markets hurt the bank's venture capital, mortgage banking, investment banking, and brokerage advisory results. The company's shares are slipping 1.0% in Friday premarket trading.
"While our net income declined in the second quarter, our underlying results reflected our improving earnings capacity with expenses declining and rising interest rates driving strong net interest income growth. Loan balances increased with growth in both consumer and commercial loans. Credit quality remained strong, and we continued to execute on our efficiency initiatives," said CEO Charlie Scharf.
"Looking ahead, our results should continue to benefit from the rising interest rate environment with growth in net interest income expected to more than offset any further near-term pressure on noninterest income." Scharf added.
Q2 GAAP EPS of $0.74 fell from $0.88 in Q1 and $1.38 in the year-ago quarter. The most recent quarter's EPS included an $0.08 impairment, mostly from its affiliated venture capital business driven by market conditions.
Total revenue of $17.0B vs. consensus estimate of $17.5B, $17.6B in Q1 and $20.3B in Q2 2021.
Q2 noninterest income of $6.83B fell from $8.37B in the previous quarter and from $11.5B in the year-ago quarter.
Net interest income of $10.2B increased from $9.22B in Q1 and from $8.80B in Q2 2021. Net interest margin on a taxable equivalent basis of 2.39% vs. 2.16% in the prior quarter and 2.02% a year earlier.
Q2 noninterest expense of $12.9B vs. $13.9B in Q1 and $13.3B in Q2 2021.
Loans of $926.6B vs. $898.0B in Q1; deposits of $1.45T vs. $1.46T in the previous quarter.
Provision for credit losses was $580M vs. benefit of $787M in the previous quarter and a benefit of $1.26B in the year-ago quarter.
Conference call at 10:00 AM ET.
Earlier, Wells Fargo non-GAAP EPS of $0.82 beats by $0.01, revenue of $17.03B misses by $510M