Amazon trims its private-label selection due to weak sales, considers exiting business under regulatory pressure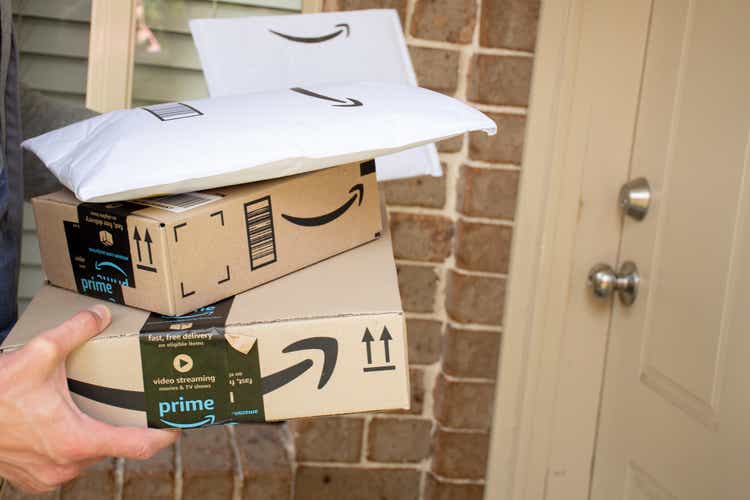 Online retail giant Amazon (NASDAQ:AMZN) is reducing the number of items it sells under its own brands by well over half, and the company has discussed the possibility of exiting the private-label business entirely to alleviate regulatory pressure - WSJ.
The company's private label of 243,000 products across 45 different house brands competes with other sellers on its platform, leading to controversy.
Disappointing sales for many of the items has led the retail giant to scale back certain household brands.
The company has also been blamed in recent years by lawmakers and others that it sometimes gives advantages to its own brands at the expense of products sold by other vendors on its site.
The move was initiated after a review of the business by Dave Clark, a longtime Amazon executive who took over as head of its global consumer business in January 2021, and left the company last month.
As a result of that review, Clark pushed the team to focus on bestselling commodity goods, along the lines of Target Corp. (TGT) "Up & Up" or Walmart (WMT) "Great Value" brands, rather than offer the extensive range of items Amazon currently does, the people familiar with the matter said.
The company has said its e-commerce platform provides opportunity for nearly two million small- and medium-size businesses that sell there, and that it competes fairly and in a way that benefits its customers.
Pursuant to this article published online, Amazon (AMZN) said in a statement that: "We never seriously considered closing our private label business and we continue to invest in this area, just as our many retail competitors have done for decades and continue to do today."
Earlier today, the company announced that it will create more than 4,000 new jobs this year, despite fears that rising inflation will hit consumer demand.
On Thursday, the company announced that members purchased more than 300M items worldwide during Prime Day 2022, making the event the single biggest Prime Day event in its history.
Amazon (AMZN) was included in Seeking Alpha's Catalyst Watch this week with the Prime Day event seen attracting attention.
Wall Street analysts screens the stock with a Strong Buy rating in contrast to Hold by SA quant rating system.