Eyes on the sky: eVTOL sector could take flight after pivotal American Airlines order
Jul. 16, 2022 11:00 AM ET
Vertical Aerospace Ltd. (EVTL)
BA, ERJ, AAL, BLDE, XPEV, JOBY, LILM, EVEX, ACHR
By:

Clark Schultz,

SA News Editor
41 Comments
The eVTOL industry may have received the shot in the arm it needed with the first payment commitment from a major U.S. airline.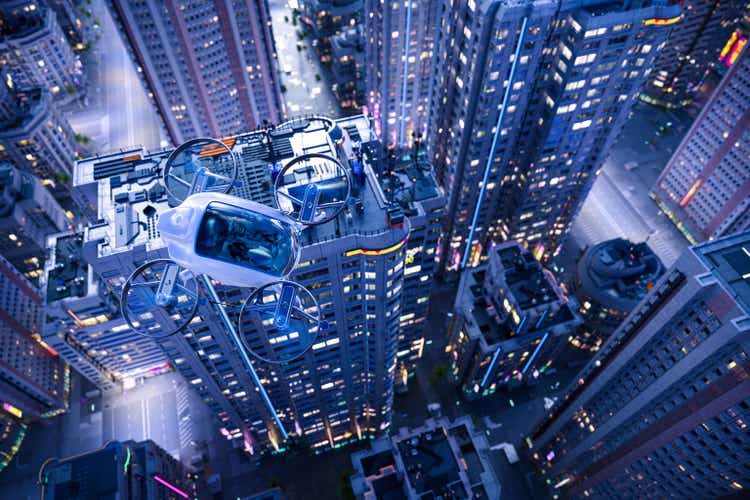 Air taxi maker Vertical Aerospace (NYSE:EVTL) ended Friday with a 72% gain after American Airlines Group (AAL) agreed to make pre-delivery payments for 50 electric vertical takeoff and landing aircraft. The company also has a broader agreement with FLYINGGROUP that includes preorders of 1,400 aircraft at a total value of $5.6B.
Vertical's VA-X4 four-passenger aircraft can fly at speeds of more than 200 mph over a range of above 100 miles.
Last year, American Airlines had agreed to pre-order up to 250 of UK-based Vertical's eVTOL aircraft in a $1 billion deal, with an option to buy a 100 more.
"Our partnership with Vertical is a great example of progress in our commitment to reducing carbon emissions throughout our airline and the industry. We have made great strides in simplifying our fleet with newer and more fuel-efficient aircraft, and we are proud to take part in another step toward the development of advanced air mobility," stated AAL Chief Financial Officer Derek Kerr.
The deal is one of the most significant so for the eVTOL industry, which is based on the concept that there will be significant urban air mobility demand for next-gen aircraft with quiet-running electric motors.
Other players in the eVTOL industry include Archer Aviation (ACHR), Beta Technologies, Eve Holding (EVEX), Wisk, Jetson, Blade Air Mobility (BLDE), Joby Aviation (JOBY), Lilium N.V. (LILM), Vertical Aerospace (EVTL), Embraer (ERJ) and Volocopter. Of note, XPeng (XPEV) is partnering with urban air mobility company HT Aero with a concept closer to Jetsons-style flying cars.
Earlier this year, BMO Capital Markets noted forward progress for eVTOL players as the industry has managed to bring in a large amount of investment dollars despite market turmoil and seen orders come in for thousands of aircraft. Those factors are said to be helping public interest in the sector as it looks to bridge the gap from concept to commercial reality.
"We believe that eVTOLs could be used as replacements for the world's aging fleet of helicopters. They are significantly less expensive to operate and generate about one percent of the noise of helicopters and have similar range," noted the firm.
Still, the market backdrop has been rough for eVTOL stocks in 2022 with investors shying away from growth stories.

Wall Street is still generally positive on the eVTOL sector due to the long-term potential even with higher interest rates and a risk-off sentiment in the market. Blade Air Mobility (BLDE) and Archer Aviation (ACHR) have the highest Seeking Alpha Quant Ratings of the group.
What to watch: The Farnborough Airshow could throw a spotlight on the eVTOL industry next week with new announcements. Read about what to expect with Boeing (BA) and the other major players in this week's Seeking Alpha Catalyst Watch.