Goldman Sachs Q2 earnings beat as expenses dropped amid lower deal activity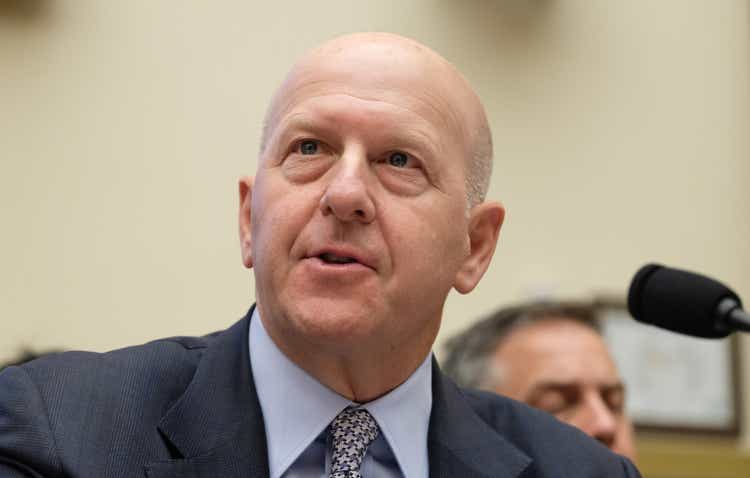 Goldman Sachs (NYSE:GS) stock is rising 3.9% in Monday premarket trading after the Wall Street bank's Q2 earnings easily surpassed analyst expectation, as declining operating expenses helped to offset lower revenue reflecting less activity in debt and equity underwriting and M&A deals.
Q2 GAAP EPS of $7.73 vs. $6.69 average analyst estimate, $10.76 in Q1 2022 and $15.02 in Q2 2021.
The bank also declared a quarterly dividend of $2.50, up 25% from its previous payout. The company originally announced its plan to raise its Q3 dividend in June, after it passed the Fed's bank stress test.
Total net revenue of $11.9B vs. $10.7B consensus, dropped from $12.9B in the previous quarter and $15.4B in the year-ago quarter.
Total operating expenses of $7.65B vs. $7.72B in Q1 2022 and $8.64B in Q2 2021. Compensation and benefits expense of $3.70B fell from $4.08B in Q1 2022 and from $5.26B in Q2 2021.
Q2 net interest income of $1.73B vs. Visible Alpha estimate of $1.81B; fell from $1.83B in Q1 2022 and increased from $1.63B in Q2 2021.
Provision for credit losses of $667M increased from $561M in the prior quarter and a net benefit of $92M in the year-ago quarter.
Goldman Sachs (GS) Investment Banking revenue of $2.14B fell 11% from Q1 and 41% from the year-ago quarter, reflecting significantly lower net revenue in underwriting, both in equity and debt.
Global Markets net revenue of $6.47B fell 18% Q/Q and increased 32% Y/Y. FICC revenue of $3.61B surged 55% Y/Y and Equities revenue of $2.86B rose 11% Y/Y.
Asset Management net revenue of $1.08B soared 99% from Q1 2022, but fell 79% from Q2 2021. The Y/Y drop reflected net losses in equity investments and significantly lower net revenue in lending and debt investments, partly offset by significantly higher management and other fees.
"Macroeconomic concerns and the prolonged war in Ukraine continued to contribute to the volatility in global equity prices and wider credit spreads," the company said. "As a result, net losses in equity investments reflected significant mark-to-market net losses from investments in public equities and significantly lower net gains from investments in private equities, compared with a strong prior year period."
Consumer & Wealth Management revenue of $2.18B rose 3% Q/Q and 25% Y/Y, with Wealth Management revenue of $1.57B rising 13% Y/Y. Consumer Banking revenue of $608M increased 67% Y/Y, primarily from higher credit card balances and higher deposit balances.
Conference call at 9:30 AM ET
Earlier, Goldman Sachs (GS) GAAP EPS of $7.73 beats by $1.04, revenue of $11.86B beats by $1.16B