Wayfair stock rebounds despite bearish Wedbush note (update)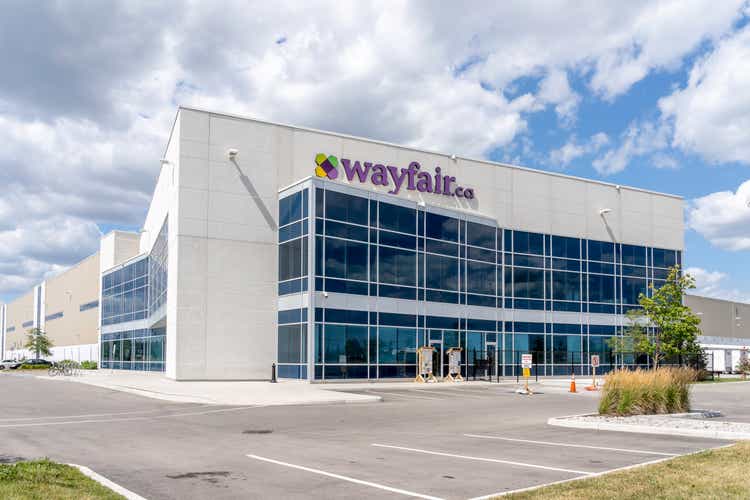 Wayfair (NYSE:W) stock surged on Monday despite the expectation of a disappointing earnings report voiced by Wedbush analyst Seth Basham.
"We remain sidelined on [Wayfair] (W) into 2Q22 earnings on Thursday, August 4," he told clients. "While industry retail sales growth continued to increase 3% y/y in 2Q22, our checks, industry commentary and additional industry promotions, point to further demand deterioration, particularly for W's core mass market customer segment that is most impacted by inflation.
In his view, elevated promotions also signal soft demand with adverse margin impacts logically following even if the brunt of the margin impact is borne by suppliers. Basham added that guidance cuts at RH (RH) and Bed Bath & Beyond (BBBY) prior to Wayfair's anticipated earnings could foreshadow a similar move from Wayfair management in August. As the retailer has higher European exposure than its peers, Basham expects the impacts of softening demand and elevated inflation could actually be greater than those prior reports.
The slower sales and rising interest rate environment also add to concerns on cash burn at the company. Amid this dynamic, Basham sees a significant possibility that Wayfair (W) becomes the latest major company to cut headcount.
"Wayfair (W) will likely need to do more than continue a 90-day hiring freeze in place since May," he advised. "Indeed, we would not be surprised for W to lay off 5-10% of its workforce which ballooned 9% in 1Q22 alone."
To be sure, the cash burn concerns do not amount to "severe liquidity issues" according to Basham. Instead, he expects the company is likely to face "limited flexibility" in refinancing debt moving forward.
Ahead of the earnings release, Basham cut his price target from $68 to $50 and reiterated a "Neutral" rating on shares. Other options in home furnishings, particularly Williams-Sonoma (WSM) are preferred stocks in terms of home furnishings to Wayfair (W) at present.
In spite of this bearish analysis, Wayfair (W) accelerated quickly in Monday's trading, surging over 9% at its intraday high. The move upward came in tandem with many beaten down eCommerce names gaining strongly on Monday. For example, ThredUp, Carvana, and The RealReal all drove to double-digit percentage gains shortly after Monday's open, building back from 75%+ losses year to date in each case.
Read more on the earnings expectations for the online retailer.