Johnson & Johnson cuts 2022 guidance as MedTech underperforms in 2Q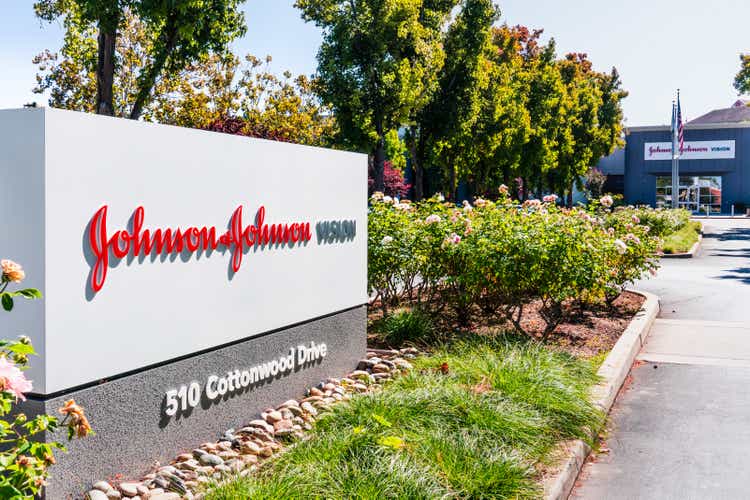 Despite reporting better-than-expected financials for 2Q 2022, Johnson & Johnson (NYSE:JNJ) slashed its full-year guidance Tuesday while the company's MedTech segment contracted during the quarter.
Revenue for the quarter rose ~3% YoY to $24.0B as the pharma segment generated $13.3B in sales with a ~7% YoY growth driven by ~14% YoY growth in sales for Stelara, a medication indicated for immune-mediated inflammatory disorders such as Crohn's disease.
Meanwhile, the company's single-dose COVID-19 vaccine added $544M in sales during the quartet to exceed Street forecasts, while sales for Imbruvica dropped ~13% YoY to $970M compared to a ~8% YoY decline in 1Q 2022.
However, multiple myeloma treatment Darzalex brought $2.0B sales with a ~39% YoY growth while Simponi sales fell ~3% YoY to $566M.
Notably, J&J's (JNJ) consumer segment which the company intends to divest exceeded Street forecasts and reported $3.8B revenue with a ~1% YoY decline, a slight improvement from a ~2% YoY decline in the preceding quarter.
Sales of the MedTech segment dropped ~1% YoY to $6.9B on a reported basis, while its operational sales on an adjusted basis grew ~3% YoY despite the impact from COVID-19 related mobility restrictions in certain regions.
The sales from the U.S. and overseas stood at ~$12.2B and $11.8B with ~2% YoY and ~4% YoY growth, respectively, indicating a decline from the previous quarter.
While J&J (JNJ) maintained its 2022 guidance for adjusted operational sales and adjusted operational earnings at the midpoint, the company slashed the forecast for revenue and diluted per-share earnings on a reported basis to $93.3B – $94.3B and $10.00 - $10.10, respectively.
The company has scheduled its conference call for today at 8:30 a.m. EST.
J&J (JNJ) continues to draw a Bullish on Wall Street with eight Buy ratings and 11 Hold ratings.