Lockheed Martin slumps after Q2 miss, full-year guidance cut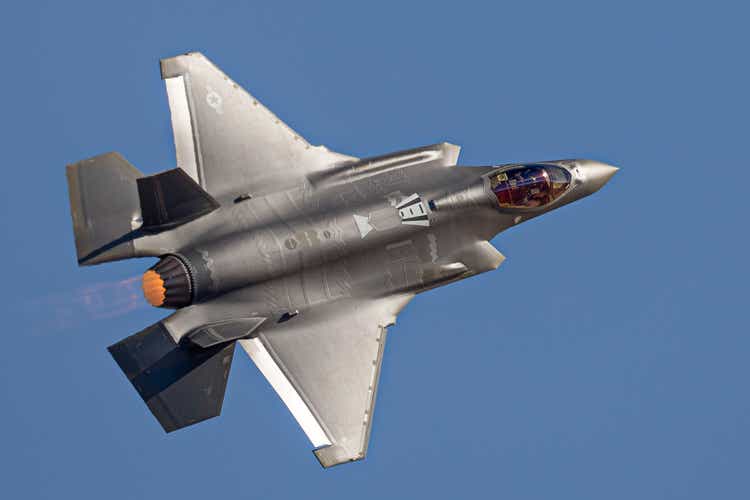 Lockheed Martin (NYSE:LMT) -3.7% pre-market on Tuesday after missing Q2 earnings and revenue estimates, and lowering its full-year EPS and revenue guidance as F-35 fighter jet sales fell amid pandemic-related headwinds.
Q2 net earnings fell to $309M, or $1.16/share, which included $1.7B in non-operational charges, from $1.8B, or $6.52/share, in the year-earlier quarter.
Q2 net sales by segment: Aeronautics -12% Y/Y to $5.86B, Rotary and Mission Systems -5.4% to $4.01B, Space -11% to $2.83B, Missiles and Fire Control -6.7% to $2.75B.
Operating profit fell 10% Y/Y to $1.96B; by segment - Aeronautics +7% Y/Y to $612M, Rotary and Mission Systems -12% to $403M, Space -20% to $268M, Missiles and Fire Control +4.2% to $418 million.
Backlog fell 5% Y/Y to $134.6B; cash flow from operations rose 5% to $1.33B.
Lockheed Martin (LMT) lowered FY 2022 EPS guidance to $21.55 from its prior outlook of $26.70 and sales guidance to $65.25B from prior guidance of $66B.
CFO Jay Malave told Reuters that problems stemming from winter and early spring COVID-19 outbreaks had hit the company and its suppliers, slowing production.
Lockheed (LMT) and the Department of Defense on Monday reached a handshake deal to deliver the next three lots of F-35 Joint Strike Fighters.