Bitcoin could hit $500K by 2027, Galaxy Digital's Mike Novogratz says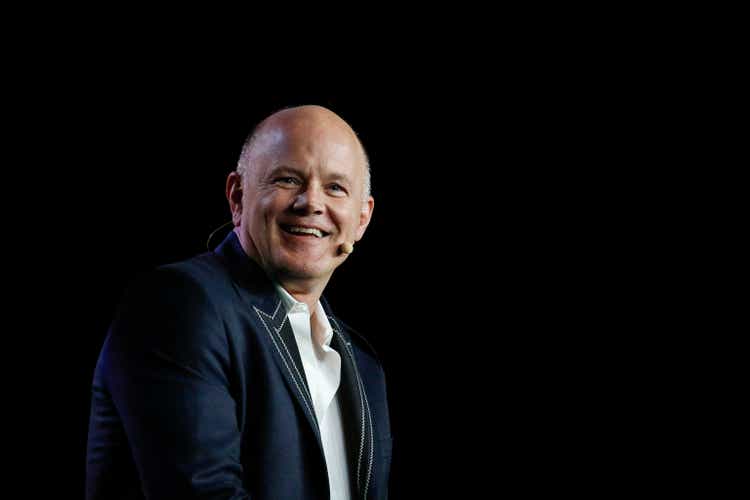 Galaxy Digital CEO Mike Novogratz said Tuesday that bitcoin (BTC-USD) will likely reach $500K within the next five or so years given its unique properties and adoption growth.
That implies a roughly 625% jump from the token's November peak of $68.9K despite ongoing financial contagion effects in the crypto market resulting in widespread price depreciation and wealth destruction.
The world's largest digital token by market cap is "tailor-made to being an anti-inflation store of value," he said during the 2022 Bloomberg Crypto Summit, adding that "it is easily transferable and so it's better than gold (XAUUSD:CUR) in so many ways."
Novogratz, a former global macro investor, pointed out that the debt-driven global economy is fueling high consumer price inflation, and bitcoin (BTC-USD) may serve as a unique way to store wealth over the long-term.
In contradiction to Novogratz's remarks about bitcoin (BTC-USD) being an inflation hedge, CPI has been soaring to its highest since 1981 over the past year, though bitcoin has been slumping well over 60% from its peak in November, suggesting that the crypto doesn't necessarily protect wealth during inflationary cycles.
Bear in mind that this is the first time the emerging crypto ecosystem has seen a spike in (global) inflation, so it'll be interesting to see where bitcoin's (BTC-USD) popularity and price go from here, recently changing hands at $22.1K as of shortly before 10:00 a.m. ET.
On the adoption front, "we continue to see institutions in Europe, the Middle East, the U.S., who haven't been involved yet who see this as an opportunity," Novogratz said.
In June, Novogratz said the crypto market is nearing a bottom.