Twitter gains 4% as Delaware judge orders October trial in setback to Musk (updated)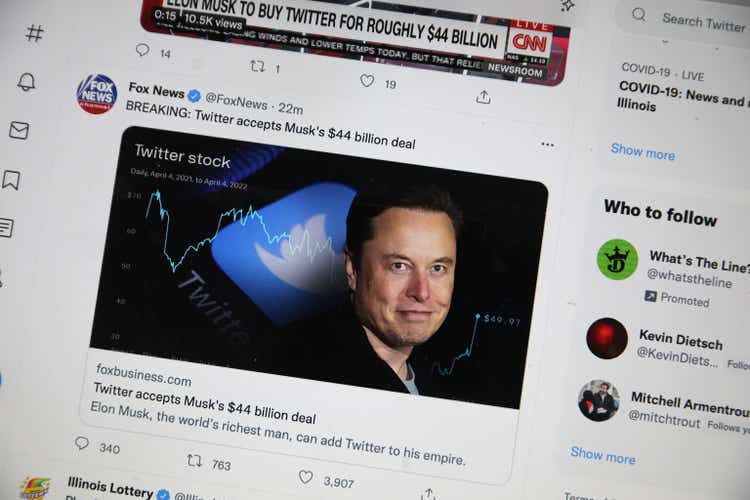 Updated: Twitter stock (NYSE:TWTR) briefly jumped higher again by as much as +4.5%, after a Delaware judge ruled that the legal battle with would-be buyer Elon Musk can go forward in October - respecting Twitter's request to expedite.
That served as a setback for Musk and his legal team, which argued that the case shouldn't be expedited, and perhaps delayed as long as a February 2023 ending.
The Delaware Court of Chancery has been "highly amenable" to expedition requests in cases where a party is calling for specific performance of a deal, as Twitter is, the judge says.
Meanwhile, the longer such deals are in limbo, the larger the risk of irreparable harm to the selling company, she said.
She wants a five-day trial in October, splitting the difference on trial length between the wishes of each team.
Original item: TWTR stock (TWTR) has jumped higher to a new level Tuesday at midday, +2.7%, as the judge in the Delaware Court of Chancery has begun pressing attorneys for Elon Musk on their argument against an expedited timetable in a legal battle over the on-then-off deal for Musk to buy the company for $44B.
The action today is just to set the trial dates, not to decide the issue.
After roughly an hour of opening statements from both sides - with Twitter arguing for moving forward, saying the drama is hurting the company every day, and Musk's attorneys raising comparisons to earlier, slower cases - the judge interrupted Musk's side appearing to suggest that similar cases went quite quickly.
Musk's attorneys have cited a February 2023 "drop-dead" date as a suitable endpoint for the legal action, while Twitter's side is arguing that the "bot issue" isn't at question before the court right now - the case's timetable is - and that Musk's foot-dragging is hurting the company minute by minute each day.
A decision on this issue is expected by 12:30 p.m. ET.