Tesla earnings preview: Eyes on run rates, margins and free cash flow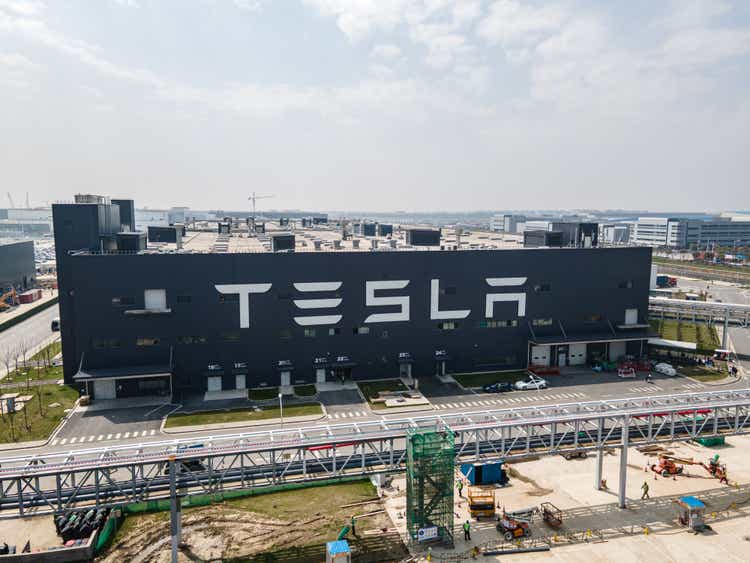 Tesla (NASDAQ:TSLA) is due to report earnings after the closing bell on Wednesday to expectations for revenue of $16.9B and EPS of $1.80 for a quarter disrupted by COVID-related slowdowns in Shanghai. 18 of the last 22 EPS revisions from analysts since the last earnings report have been to the downside.
The electric vehicle giant has already reported on Q2 deliveries, so a major focus will be on the expected production run rates out of Berlin and Austin for the rest of the year. Margins are also a big consideration. Prices for Tesla (TSLA) vehicles are up 25% to 30% from a year ago, but it's unclear if that is keeping pace with inflation costs, especially after Elon Musk warned Austin and Berlin were money furnaces because the production ramp has been slowed by supply chain issues. Also watch if Tesla's Q2 free cash flows number surprises to the upside or disappoints. The consensus estimate for free cash flow was $2B at the beginning of the quarter, but is now down to $500M. New Street Research analyst (and strong bull) Pierre Ferragu forecasts Tesla (TSLA) might only break even in terms of free cash flow for the quarter.
Deliveries guidance from TSLA has been vague for the last year, but Wedbush Securities thinks the automaker is on pace to still increase deliveries by 50% this year even with China essentially shut down for 2 months. Analyst Dan Ives thinks reiterated full-year deliveries guidance could boost the long-term EV demand thesis around the stock.
Ahead of the TSLA earnings report, Electrek reported that Tesla Energy had its best quarter in years for residential solar in the U.S. with 71.5 MW. The final number could be even higher with further deployment in the commercial market and other regions.
The conference call is likely to include Elon Musk and could veer away from financials and production into some talk on battery technology, FSD, staffing, the upcoming AI Day or even the thinking on the Bitcoin holdings on the balance sheet. Musk is unlikely to say much or anything about Twitter deal.
Tesla (TSLA) has beat consensus revenue expectations in ten straight quarters and topped EPS marks in five straight quarters.