EU releases plan to cut energy demand as Putin warns on Nord Stream
Jul. 20, 2022 7:14 AM ET
Public Joint Stock Company Gazprom (OGZPY), GZPFY, GZPMF
UNG, FCG, UNL, BOIL, KOLD, UGAZF, DGAZ, GAZ
By:

Yoel Minkoff,

SA News Editor
59 Comments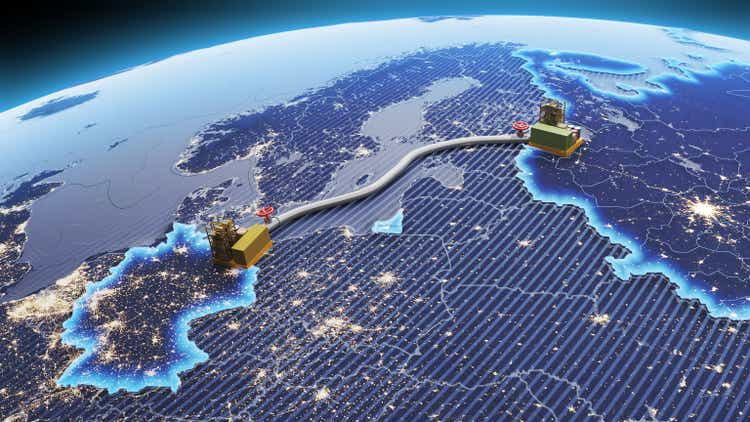 The main artery for Russian gas to European Union, otherwise known as Nord Stream 1, has been offline for most of the past two weeks due to pre-scheduled annual maintenance. However, many Western nations are growing concerned that Moscow could permanently turn off the flows, which are used in everything from heating and cooking to electricity and power generation. Russia supplies the the bloc with 40% of its natural gas imports, and in nations like Germany, that figure is as high as 60%.
The conditions: In comments following his visit to Iran, Vladimir Putin said that Gazprom (OTCPK:OGZPY) - the pipeline operator's majority shareholder - has "always fulfilled its obligations," but warned that sanctions could impact future transfers. He specifically referenced a turbine that was undergoing repairs in Canada (which has leveled penalties on Moscow) and another turbine that will go for maintenance on July 26. Flows could fall to some 20% of capacity if the turbine isn't returned soon, but European officials have dismissed the explanation as a pretext to wreak economic havoc on the continent.
"It's absolutely clear that Moscow is cutting supplies for geopolitical reasons," declared Tim Ash, senior strategist at Bluebay Asset Management. "It wants to create a European gas crisis this winter to bring Europe to its knees to the point where it cuts support to Ukraine."
Go deeper: Gas shortages have already undermined the euro, which is now at parity with the dollar, and added to the risks of a looming European recession. At the same time, the European Commission published plans today to press governments on stepping up their energy conservation campaigns. Countries would be expected to reduce consumption by at least 15% over the next eight months, while switching from natural gas to other energy sources like nuclear and coal.