Gold settles below $1,700 in lowest settlement since March 2021
Jul. 20, 2022 2:35 PM ET
SPDR Gold Trust ETF (GLD), GDX, XAUUSD:CUR
IAU, NEM, GFI, AEM, IAG, HMY, GOLD, AUY, AU, AGI, PHYS, NUGT, XAGUSD:CUR, AEM:CA, ABX:CA, NGT:CA, IMG:CA, AGI:CA, YRI:CA, PHYS:CA
By:

Carl Surran,

SA News Editor
98 Comments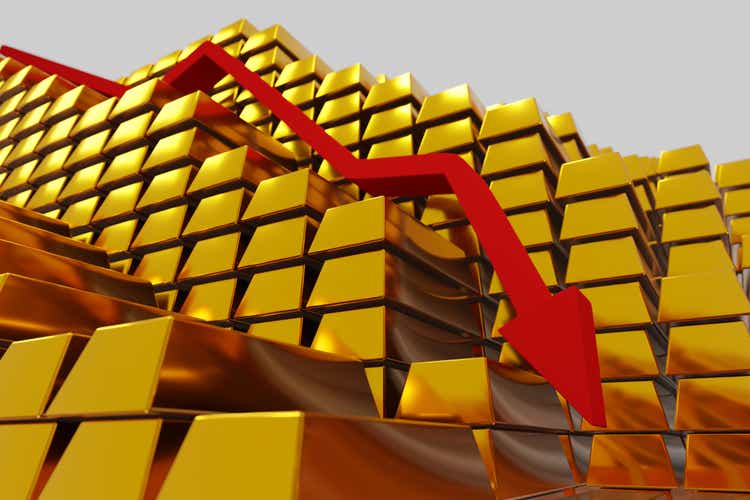 Gold futures fell to their lowest in nearly 16 months on Wednesday, as the U.S. dollar edged higher following a brief pullback.
Front-month Comex gold (XAUUSD:CUR) for July delivery settled -0.6% to $1699.50/oz, its lowest settlement value since March 30, 2021, and off 16.7% from its 52-week high of $2,040 on March 8, 2022.
Front-month Comex silver (XAGUSD:CUR) closed -0.2% to $18.639/oz, its third-lowest settlement this year.
ETFs: (NYSEARCA:GLD), (NYSEARCA:GDX), (IAU), (NUGT), (PHYS)
Top gold mining stocks post broad losses: (NEM) -3.8%, (GOLD) -3.1%, (AEM) -3.7%, (AUY) -1.9%, (IAG) -2%, (AU) -2.9%, (GFI) -2.5%, (HMY) -2.1%, (AGI) -3.3%.
While gold is considered as a hedge against inflation, analysts say the metal is hostage to rate-hike expectations due to its zero-yielding nature.
The metal had opened the week higher on reduced fears of a full percentage point Fed rate hike by the Fed, but it has failed to attract safe-haven flows as investors preferred the dollar.
"Gold, and every market for that matter, is reacting to the stark reality of a Fed seemingly intent to tighten into a recession," Gold Newsletter editor Brien Lundin said.
Forex.com's Fawad Razaqzada said recently that "ultimately, the dollar has to stop rising before we see gold make a meaningful comeback."