Citi still sees solid revenue growth in broadband, wireless despite headwinds
Jul. 20, 2022 3:40 PM ET
T-Mobile US, Inc. (TMUS), T, VZ, CMCSA
CNSL, CHTR, LBRDB, LBRDA, LBRDK, FYBR
By:

Jason Aycock,

SA News Editor
2 Comments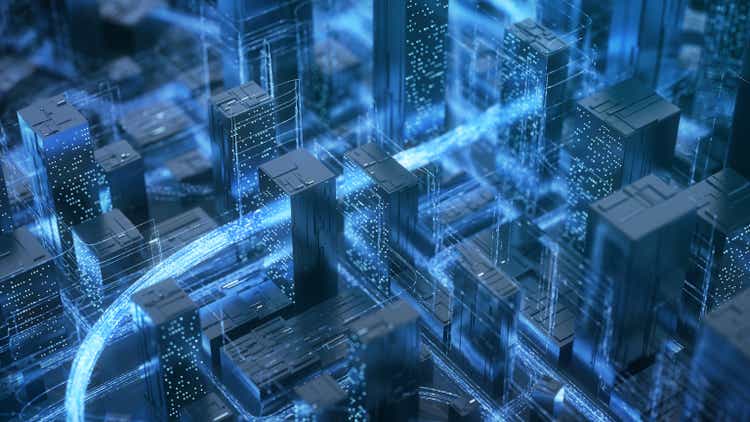 Citi has updated its models for wireless and broadband stocks heading into earnings season, and while it's trimmed its outlook a bit, it's still expecting "solid" revenue growth.
Communication Services industry revenues for the year should grow 2.3% to $546B, down just about 20 basis points from Citi's prior expectations, the team of Michael Rollins, Jason Bazinet and Anthony Nemoto said.
"Demand for mobile and fixed broadband solutions are likely to stay steady during a recession, although customers may choose to optimize spending through value-shopping, migrate to lower-spending broadband and mobile tiers, and consider cheaper solutions, such as wireless home broadband, prepaid mobile, & mobile substitution of broadband," the analysts said.
Recent comments from industry participants have identified some risks on broadband revenue and volume performance to watch out for, and they say they'd expect both telecom and cable firms to find ways to take price in ways that don't disrupt marketing strategies designed to offset inflationary pressures.
Broadband volume expectations are complicated by slower growth, and accelerating user volumes for fixed wireless broadband, they say. They expect overall broadband net adds for the year of 3.3M, but with wireless taking a greater share - leaving cable net adds for the quarter and year at risk.
Wireless, meanwhile, seems "primed for a softer volume landing" on an intrinsic level and compared to consensus, the analysts said. They still expect over 7M postpaid phone net adds this year - and in that context, Verizon's (NYSE:VZ) premium brand perception may be "losing some ground" to value-oriented offers from T-Mobile (NASDAQ:TMUS) and cable.
Sentiment on the category overall is still "cautious" with cable valuations converging on telecom valuations, and it's looking to keep a balanced view between large-cap cable and telecom stocks.
Citi's favorite pick across the board, though, is T-Mobile (TMUS), with chances to "grow revenue, meaningfully expand its EBITDA margin, and repurchase a meaningful percentage of its shares over the next few years."
It's still advocating a pair trade for Buy-rated Frontier (FYBR) to outperform Sell-rated Consolidated Communications (CNSL), given cheaper valuation and a better chance for improvement. And it's sticking with a Buy on AT&T (NYSE:T) on prospects to leverage fiber and re-invigorate mobile marketing.
In cable, though, it's Neutral on Comcast (NASDAQ:CMCSA), citing risks from slower broadband growth and possible ramp-up of investment in Peacock streaming, and Neutral on Charter (CHTR) given its premium to other cablecos in the same slower environment. Citi does have a Buy rating on Liberty Broadband (LBRDA), which it sees a cheaper way into a Charter investment.