Affirm sustains rally, while other fintechs dip after four-session rebound (update)
Jul. 21, 2022 4:14 PM ET
Affirm Holdings, Inc. (AFRM), SQ, LC, NU
LDI, SP500, PSFE, HOOD, UPST, BLND
By:

Max Gottlich,

SA News Editor
6 Comments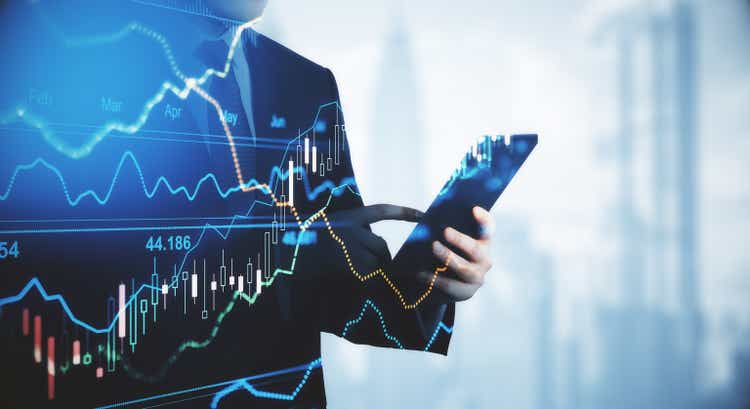 Affirm (NASDAQ:AFRM) has managed to extend its rally on Thursday, though Upstart (UPST), LendingClub (NYSE:LC) and other fintech stocks pulled back after a big runup over the past four sessions in what looks like a classic case of a bull trap.
Block (NYSE:SQ) -0.03%, Upstart Holdings (UPST) -1%, loanDepot (LDI) -2.3%, Blend Labs (BLND) -0.3%, LendingClub (LC) -0.8%, and Paysafe (PSFE) -0.5%.
The recent rally in fintechs coincided with the S&P 500's (SP500) 2.5% upswing at the time, as investors' risk appetite widened. But now the tables have turned.
Over the past month, Affirm (AFRM) has been the clear winner among its fintech peers, soaring nearly 52%, while Jack Dorsey's Block (SQ) has climbed 19.5%, LendingClub (LC) +15%, Nu Holdings (NYSE:NU) +14.1%, Robinhood (HOOD) +20.2% and loanDepot (LDI) +17.2%, according to the chart below.
Still, those names fell significantly during the past year amid mounting recession fears and deteriorating financial conditions, hence the looming bull trap scenario.
Simply put, a bull trap occurs when a falling trend in a stock reverses temporarily above a certain breakout level, but then traders get "trapped" as they acted on a false buy signal, leading to losses on those long positions as the stock flips back to new lows.
It'll be interesting to see how fintech stocks fare as the Federal Reserve's July 26-27 interest rate decision nears. If the Fed lifts its policy rate as expected, businesses' borrowing/funding costs will also rise in a move that bodes poorly for those with high levels of debt and/or small cash piles. The central bank has already raised its benchmark lending rate by 175 basis off the effective zero lower bound so far in 2022.
Take a look at why SA contributor Juxtaposed Ideas views Affirm stock as a Sell.