Snap nosedives 27% as revenue falls short, company pulls guidance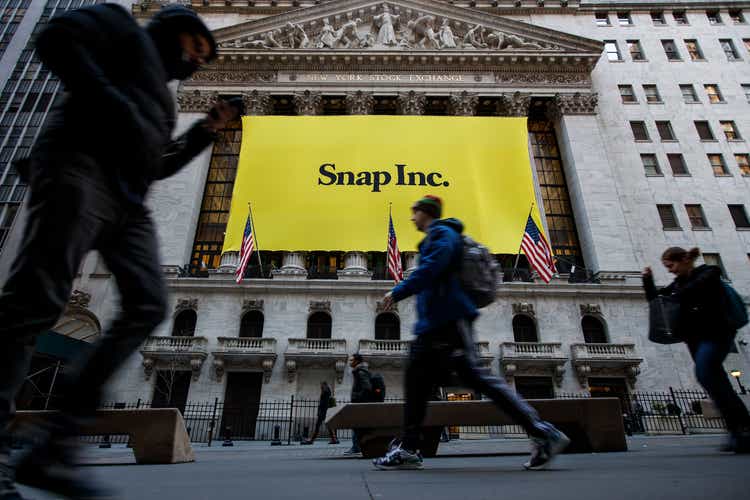 Snap stock (NYSE:SNAP) is sliding after hours, down 26.8%, following second-quarter earnings where it fell just shy on revenue measures, though it topped expectations on net user additions and posted a better-than-expected loss.
The company also authorized up to $500M in stock repurchases, and says it will split its Class A stock if the price hits $40 within 10 years.
After warning last quarter of a surprisingly swift deterioration in macro conditions that led it to slash guidance, Snap (SNAP) now says it will slow the rate of both its hiring and its operating expense growth.
Revenues grew 13% vs. expectations for 15.5% growth, and net loss swelled to $422M from a year-ago loss of $152M.
Adjusted EBITDA fell accordingly, to $7M from a prior-year $117M. And cash flows worsened year-over-year: Operating cash flow moved to -$124M from the previous -$101M, and free cash flow to -$147M from -$116M.
But an EPS loss of 2 cents a share beat consensus forecasts for a loss of 3 cents a share. And daily active users jumped 18% to 347M, vs. an expected 343.3M.
"While the continued growth of our community increases the long-term opportunity for our business, our financial results for Q2 do not reflect our ambition," says CEO Evan Spiegel. "We are evolving our business and strategy to reaccelerate revenue growth, including innovating on our products, investing heavily in our direct response advertising business, and cultivating new sources of revenue to help diversify our top-line growth."
The company isn't providing any guidance for third-quarter revenue or EBITDA "given uncertainties related to the operating environment."
Conference call to come at 5 p.m. ET.