Verizon hits five-year low as slashed outlook points to no growth ahead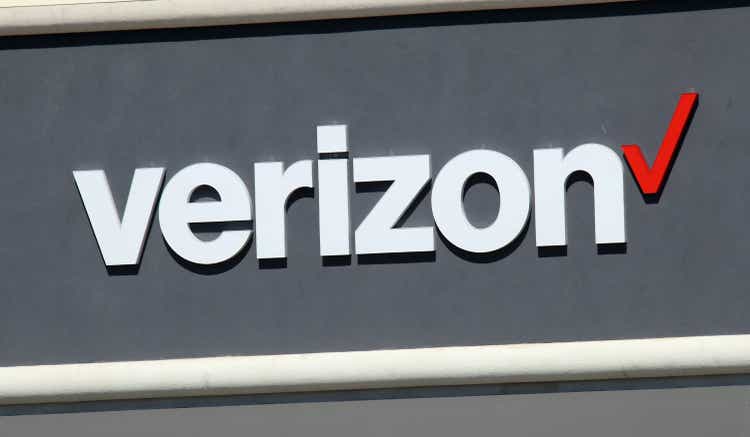 Verizon shares (NYSE:VZ) fell almost 7% to their lowest level since 2017 amid rough reaction to a quarterly report where the company narrowly missed profit expectations but cut back its guidance after a big miss in wireless subscription growth.
Revenues overall were flat at $33.8B, in line with expectations. And wireless service revenues rose 9.1% to $18.4B.
But the company added just 12,000 net new postpaid phone customers when analysts had forecast adds of more than 167,000.
The slowdown resulted in some heavy guidance cuts that sent investors into selling mode. Verizon (VZ) said it now expects to earn between $5.10 and $5.25 a share, down from a previous forecast of $5.40 to $5.55 a share.
Verizon (VZ) management also reduced the company's 2022 expectations for wireless service revenue growth to between 8.5% and 9.5%, down from a previous forecast for 9% to 10%. Verizon (VZ) also said it expects service and other revenue for 2022 to be flat or decline up to 1% from a year ago, suggesting slim prospects for growth this year.
The company had previously guided to EBITDA growth of 2% to 3%, but now expects that to be flat, at best, or decline as much as 1.5% from a year ago.
"Although recent performance did not meet our expectations, we remain confident in our long-term strategy," said Chief Financial Officer Matt Ellis. "We believe that our assets position us well to generate long-term shareholder value."
Rival AT&T (T) took flak for its Thursday report, in which it cut free cash flow guidance citing the specter of customers delaying bill payments. On Verizon's (VZ) Friday conference call, Ellis said he hadn't seen delays from Verizon (VZ) customers, and said 2022 challenges are a short-term setback.
Two tough telecom reports in two days weighed on the usually defensive sector. AT&T (T) fell 3% Friday as, along with ongoing reaction to its report, Barclays cut its rating on AT&T's (T) stock to equal weight, and raised the issue of management credibility.
"Big Three" U.S. rival T-Mobile (TMUS), looked positive in comparison to AT&T (T) and Verizon (VZ), as its shares slipped by 1.3%. But T-Mobile parent Deutsche Telekom (OTCQX:DTEGY) gave up 3% in U.S. trading. Foreign telecoms: Telefónica (TEF), Orange (ORAN) and Telia (OTCPK:TLSNY) also slipped into the red.
On Wednesday, Citi was more upbeat about wireless and broadband stocks, trimming its expectations a bit but still expecting "solid" growth from the group.