SVB Financial upgraded to Outperform at Evercore after expectation reset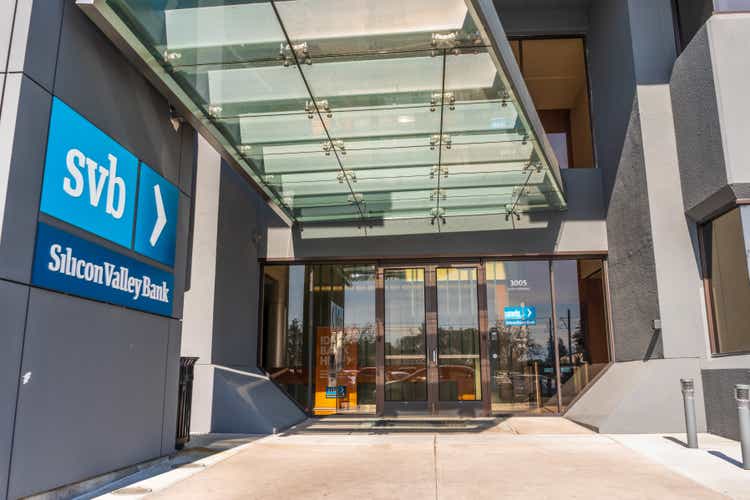 SVB Financial (NASDAQ:SIVB) stock is gaining 1.6% in Monday premarket trading after Evercore ISI analyst John Pancari upgraded the stock to Outperform from In Line as the stock's recent pullback provides an entry point for long-term holders.
The stock dropped 11% in Thursday trading, even before the parent of Silicon Valley Bank posted softer-than expected Q2 earnings after the close. On Friday, SIVB shares slid 6.3% more.
"SVB Financial's (SIVB) 2Q22 results were clearly challenging and marked by a slowdown in loan growth, a decline in deposits, negative marks against warrants and investments, and loan loss reserve build," Pancari wrote a note Monday. As a result, earnings expectations were reset ~20% lower, he said.
"That said, while the revision is material and incremental risk persists (in our view), we continue to believe the stock warrants a premium multiple vs. peer banks also facing recessionary risks," he said.
He sees "substantial dry power" as a catalyst for the company's loan and deposit growth. "SVB management noted on its earnings call that private capital investment dollars remain substantial."
Pancari reduces his 2022 EPS estimate to $28.91 from $34.94 and 2023 EPS estimate to $37.20 from $46.96. Track SIVB's analyst earnings estimate revisions here.
His Outperform rating leans more bullish than SA Quant rating's Hold and aligns with the average Wall Street rating of Buy.
On Friday, SVB Financial (SIVB) shares reached a new 52-week low and were the worst-performing in the S&P 500.