WWE jumps 8% as Loop Capital upgrades, citing 'greater likelihood' company is sold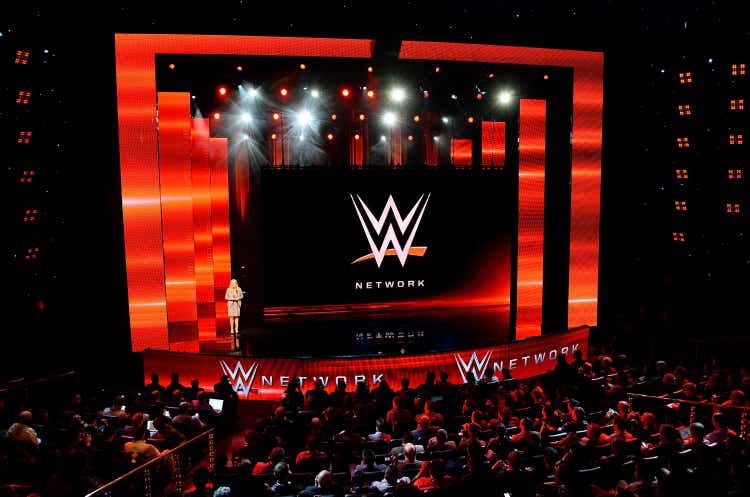 World Wrestling Entertainment (NYSE:WWE) shares jumped more than 8% on Monday after investment firm Loop Capital upgraded the company, noting that the sudden retirement of former CEO and Chairman Vince McMahon on Friday could lead to a "greater likelihood" that the company is sold.
Analyst Alan Gould moved his rating to buy from hold and raised the price target to $90 from $59, noting that even though World Wrestling Entertainment (WWE) shares have been one of the better performers this year, gaining 34% compared to a 16% decline for the S&P 500, there is still more room to run.
"WWE is a unique franchise and our base case 2025 EPS, the first full year post the US TV renewal is $5 per share, and could easily be $6 based on the trend of recent sports rights," Gould wrote in a note to clients.
World Wrestling Entertainment (WWE) shares gained nearly 4% to $68.75 in premarket trading.
Concerning potential buyers, Gould mentioned potential acquirers such as Comcast (NASDAQ:CMCSA), Disney (DIS), Amazon (NASDAQ:AMZN) and perhaps even Netflix (NFLX). WWE (WWE) already partners with Comcast (CMCSA) for streaming and live media rights, with its Peacock deal set to expire in 2026 and live media rights set to end in October 2024.
"The prospect of a deal should also help put a floor under WWE's shares relative to the market," Gould added.
McMahon stepped down as WWE (WWE) chairman and CEO roles in June amid an ongoing probe into an alleged secret hush deal with a former employee. However, he still kept his day-to-day role guiding the company's creative content.
Earlier this month, The Wall Street Journal reported that McMahon paid $12M in multiple hush money deals over his alleged conduct during his time at WWE (WWE).
Analysts have been mixed on WWE (WWE). It had an average rating of HOLD from Seeking Alpha authors, while Wall Street analysts rate it a BUY. Conversely, Seeking Alpha's quant system, which consistently beats the market, rates WWE a HOLD.