Bitcoin dips under $22K, ether, cardano, avalanche slide most among major cryptos
Jul. 25, 2022 9:14 AM ET
Bitcoin USD (BTC-USD), ETH-USD
MSTR, RIOT, MARA, COIN, HUT, DOGE-USD, ATOM-USD, ADA-USD, BTBT, SOL-USD, AVAX-USD
By:

Max Gottlich,

SA News Editor
10 Comments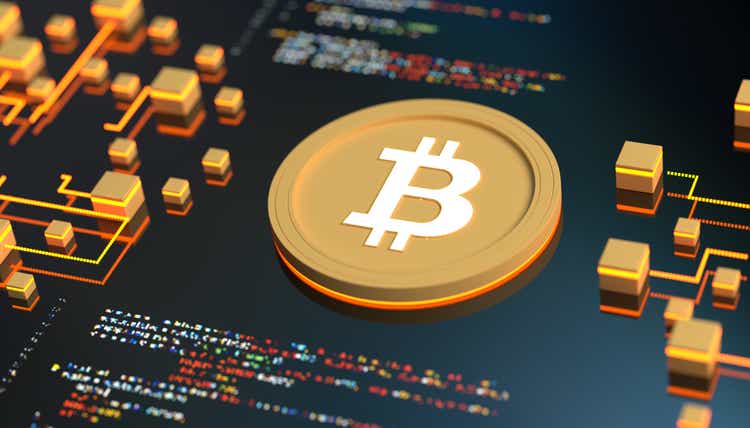 Ahead of this week's Federal Reserve interest rate decision, bitcoin (BTC-USD) is drifting down to below $22K in early Monday morning trading, and other cryptocurrencies like ethereum (ETH-USD), cardano (ADA-USD) and avalanche (AVAX-USD) are following suit.
Over the past 24 hours, bitcoin (BTC-USD) is dipping 3.1% to $21.88K, the higher end of a one-month-old trading range of $19K-22K. Ether (ETH-USD) is sliding 3.7% to $1.52K as of around 9:15 a.m. ET.
On a purely technical basis, things aren't looking so hot. Bitcoin (BTC-USD) "remains below the 200 weekly moving average and was rejected from this resistance level last week," Marcus Sotiriou, an analyst at digital asset broker GlobalBlock, wrote in a note. "If the price stays below this level, we can expect the downtrend to continue."
Last week, bitcoin (BTC-USD) tried to reverse course after testing $24K resistance, but "the downside risk is huge," @macromadness2 wrote in a Twitter post. He added that "the downtrends point to 1K to 5K at the end very low-end with 25K to 28K near-term upside. The most asymmetric payoff in market right now."
More cryptos in the red: avalanche (AVAX-USD) -6.7%, cardano (ADA-USD) -5.9%, dogecoin (DOGE-USD) -4.1%, solana (SOL-USD) -3.5% and cosmos (ATOM-USD) -7.6%.
The intraday crypto slump comes even as all three major stock futures point to a bullish open as companies' earnings come pouring in.
Crypto-related stocks, though, are also coming under selling pressure in premarket trading: MicroStrategy (MSTR) -2.8%, Coinbase Global (COIN) -2.3%, Marathon Digital (MARA) -5%, Riot BLockchain (RIOT) -3.5%, Bit Digital (BTBT) -2.2% and Hut 8 Mining (HUT) -3.4%.
Previously, (July 21) Citi thinks the crypto contagion sparked by Terra collapse could be coming to an end.