Newmont Q2 profit plunges as costs rise; cuts full-year production guidance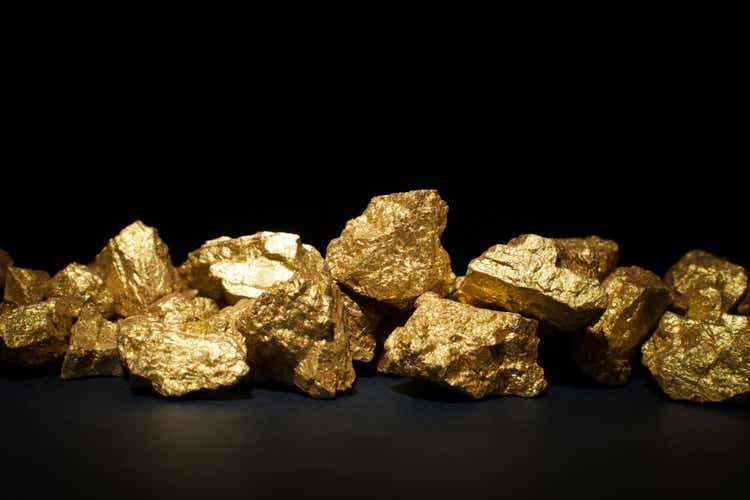 Newmont (NYSE:NEM) -10.2% to its lowest level since April 2020 in Monday's trading after reporting weaker than expected Q2 earnings, hurt by a drop in gold production and prices, and lowered its gold production forecast for the full year.
Q2 net income from continuing operations fell to $379M, or $0.48/share, from $640M, or $0.80/share in the year-ago quarter, while revenues totaled $3.06B, compared with $3.07B a year earlier and in line with analyst estimates.
Newmont's (NEM) Q2 gold production rose 3% Y/Y to 1.5M oz from 1.45M oz, at an all-in sustaining cost of $1,199/oz compared with $1,035/oz a year ago.
Newmont (NEM) said earnings were hurt by higher labor, materials and consumables costs, higher fuel and energy expenses, and a $70M charge related to the profit-sharing agreement announced in early July with the workforce of its Peñasquito mine in Mexico.
For the full year, Newmont (NEM) now forecasts attributable gold production of 6M oz, down from previous guidance of 6.2M oz and below 6.3M oz analyst consensus estimate, at all-in sustaining cost of $1,150/oz, below its prior forecast of $1,050/oz and $1,111/oz consensus.
The miner cited negative impacts from labor availability and supply chain disruptions affecting the Ahafo mine in Ghana, a transition to a leach-only operation at the Cripple Creek & Victor mine in the U.S., and a productivity slowdown caused by more competitive labor markets in Canada and Australia.
Newmont's (NEM) stock price return shows a 24% YTD drop and a 23% loss during the past year.