Democrats, Republicans spar over marijuana legalization at Senate hearing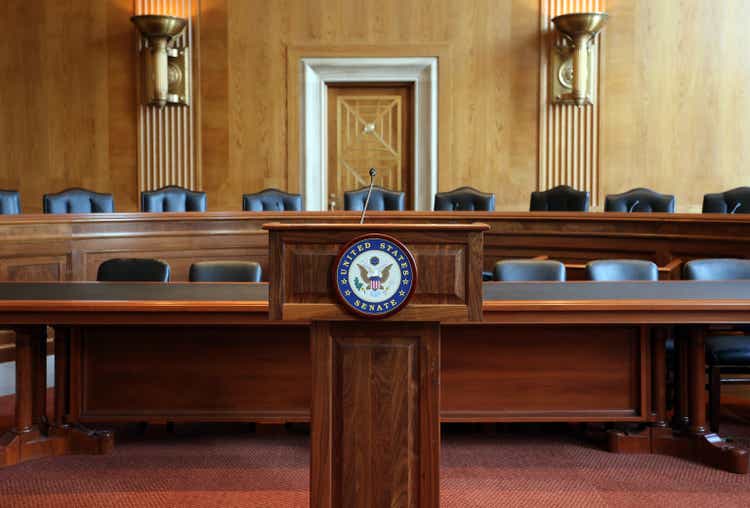 In what could be an indication of a tough road ahead for marijuana legalization, Democrats and Republicans sparred on a Tuesday afternoon on the topic.
The Senate Judiciary Committee Subcommittee on Criminal Justice and Counterterrorism hearing, "Decriminalizing Cannabis at the Federal Level: Necessary Steps to Address Past Harms," is being chaired by Sen. Cory Booker (D-N.J.).
Booker is one of the sponsors of the Cannabis Administration and Opportunity Act (CAOA), introduced last week by Senate Majority Leader Chuck Schumer (D-N.Y.). It would deschedule marijuana as a Schedule I controlled substance, provide criminal justice reforms, and federal loans to small marijuana businesses.
In his opening remarks, Booker said that the nation's current laws on cannabis have failed, with particular harm on veterans and minority communities. He added that even though Blacks and whites use marijuana at similar rates, Blacks are 3.5 times more likely to be arrested for a cannabis offense.
Booker noted that in 2019, there were more arrests for cannabis than for all violent crimes combined. He argued that this inhibits the ability for law enforcement to focus on violent crimes.
The public is also in favor of legalization. Booker said that 91% of Americans are in favor of medical marijuana, while 68% support adult use. He added that in states where marijuana is legal, there have been fewer drug arrests and less disparities in those arrests.
He concluded by saying legalizing marijuana is a first step in addressing the harms caused by the federal war of drugs.
Ranking Member Sen. Tom Cotton (R-Ark.) opened by calling the CAOA the "Marijuana Reparations Act," adding that arguments for marijuana legalization are based on misinformation.
He noted that under President Obama, the DEA came out and said that there is accepted no medical benefit for marijuana, which is also the U.S. FDA's position.
Cotton said that in 2021, there were less than a thousand federal marijuana arrests, and most were for trafficking along the southern U.S. border.
He warned that a CAOA provision that would expunge the criminal records of those convicted of marijuana offenses is a mistake as many of those people have multiple sentences including those for violent crimes. "It would be a gift for the cartels.
"There should be consequences for them, not billions of dollars in grants," he added.
Addressing the argument that legalization would allow cannabis businesses access to the U.S. financial system, Cotton said that there are more than 750 banks and credit unions available to them in states where marijuana is legal.
Sen. Dick Durbin (D-Ill.), in his comments, said that marijuana banking legislation would reduce violent crime at dispensaries since they would no longer be cash-only businesses.
He added that should legalization occur, there should be measures included so that it is not targeted at children, such as mixing it with candy flavors. "There should be no Joe Camel of cannabis."
Citing data from the Colorado Department of Public Health & Environment, witness Malik Burnett, medical director of the Maryland Department of Health's Center for Harm Reduction Services, said that after recreational approval in that state, there was no increase in cannabis use among teens.
Multi-state operators: Cresco Labs (OTCQX:CRLBF); Columbia Care (OTCQX:CCHWF); Trulieve Cannabis (OTCQX:TCNNF); Green Thumb Industries (OTCQX:GTBIF); Curaleaf Holdings (OTCPK:CURLF); MedMen Enterprises (OTCQB:MMNFF); Acreage Holdings (OTCQX:ACRHF); Ayr Wellness (OTCQX:AYRWF); Verano Holdings (OTCQX:VRNOF); and Jushi Holdings (OTCQX:JUSHF).
Canadian cannabis names: Canopy Growth (CGC), Tilray (TLRY), Aurora Cannabis (ACB), HEXO Corp. (HEXO), Sundial Growers (SNDL), OrganiGram Holdings (OGI), and Cronos Group (CRON).
Cannabis-related ETFs, AdvisorShares Pure Cannabis ETF (YOLO), Amplify Seymour Cannabis ETF (CNBS), ETFMG Alternative Harvest ETF (MJ), AdvisorShares Pure US Cannabis ETF (MSOS), and Global X Cannabis ETF (POTX).
Rep. Ed Perlmutter, the main sponsor of the SAFE Banking Act in the House, recently said the introduction of the CAOA could aid passage of the banking bill in the Senate.