F45 Training stock sinks postmarket on slashed guidance, job cuts, CEO exit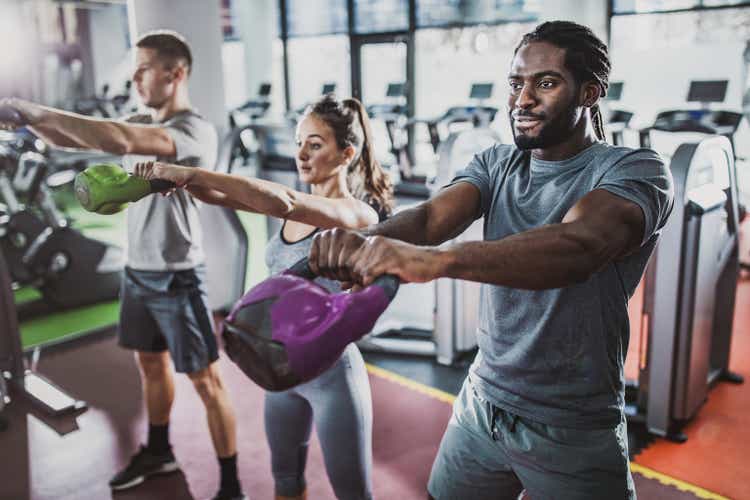 F45 Training (NYSE:FXLV) stock sank 51.9% postmarket on Tuesday after the fitness franchisor slashed its 2022 outlook amid ongoing macroeconomic uncertainty, announced job cuts and said its CEO will step down.
FXLV slashed its 2022 revenue guidance to $120M-$130M from prior outlook of $255M-$275M. The new guidance is well below consensus estimate of $266.07M.
The firm also cut its 2022 adj. EBITDA guidance to $25M-$30M from prior forecast of $90M-$100M. FXLV withdrew its 2022 cash flow guidance.
The company expects 350-450 new franchises to be sold in 2022 vs. prior outlook of 1.5K and 350-450 net initial studio openings vs. prior guidance of 1K.
Revised guidance assumes that $250M of growth capital provided by 2 franchise financing facilities will not be available despite strong demand from franchisees.
FXLV will cut operational costs and reduce its global workforce by ~110 employees. After these reductions, FXLV expects SG&A expenses to be ~$15M-$20M per quarter, which is ~40-50% less than SG&A expenses during Q1.
FXLV expects to generate positive free cash flow on a normalized basis once these cost reductions are fully realized.
Adam Gilchrist - FXLV founder, president, CEO and chairman - has stepped down. He will remain as a director and FXLV will appoint a new chairman.
While FXLV conducts a formal search for a permanent CEO, independent director Ben Coates will serve as interim CEO. Coates currently serves as director of Coolgardie Investments.