Credit Suisse stock gains after CEO transition, cost-cutting plans announced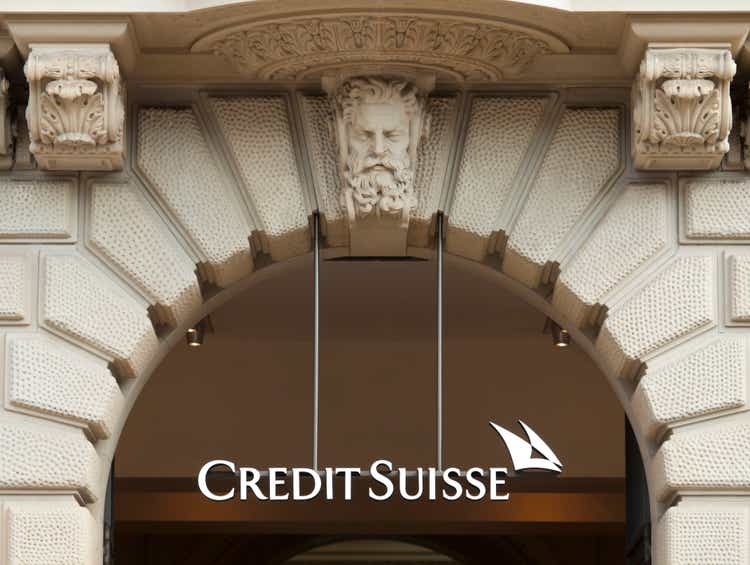 Credit Suisse Group (NYSE:CS) ADSs are rising 3.6% in Wednesday U.S. premarket trading after the Swiss bank said it's replacing its CEO, launching a comprehensive review of its operations, and driving down absolute costs to below CHF 15.5B ($16.1B).
"Our goal must be to become a stronger, simpler and more efficient Group with more sustainable returns," said Chairman Axel Lehman.
On an adjusted basis, the company posted a pretax loss of CHF 442M in Q2 2022, compared with pretax income of CHF 300M in Q1 and pretax income of CHF 1.31B in Q2 2021. Not only did the bank face challenging economic and market conditions, but it's continuing to deal with legal matters, including compliance issues regarding records preservation. On a reported basis, its Q2 pretax loss was CHF 1.17B.
Ulrich Körner will become Group CEO on Aug. 1, 2022, succeeding Thomas Gottstein, who is resigning after serving in that role for two years. During his tenure, the bank suffered the twin collapses of Greensill Capital and Archegos, which resulted in billions of dollars of losses.
Körner joined Credit Suisse (CS) in April 2021 as CEO of Asset Management. He joined from rival Swiss bank UBS Group (UBS), where he led the asset management division for six years. Before that he was chief operating officer.
A pillar of the strategic review will be to create a capital-light, advisory-led Banking business and more focused Markets business that complements the growth of CS's wealth management and Swiss Bank franchises. The bank will evaluate options to "drive the next leg of growth for our market-leading Securitized Products platform and other related financing businesses," the company said.
David Miller and Michael Ebert will become co-heads of the Investment Bank, with Miller leading Banking and Ebert overseeing Markets. Christian Meissner, CEO of the Investment Bank, will focus on the strategic transformation of the business.
The bank's board of directors and executive board have also initiated a program to lower the Group's absolute cost base to below CHF 15.5B in the medium-term, given the challenging economic and market environment. Credit Suisse (CS) aims to generate savings in the Technology and Operations function to improve scalability and to continue its digital transformation, the bank said.
On Tuesday, the Wall Street Journal reported that Gottstein would leave as CEO. Earlier, Credit Suisse Group AG (CS) reports Q2 results, announces CEO transition