Cathie Wood dumps 1.4M shares of Coinbase on day stock slumped 21%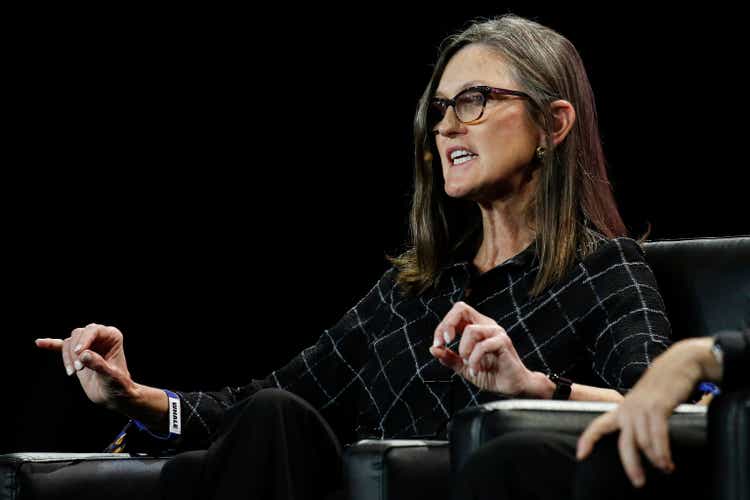 Cathie Wood's ARK Investment sold almost 1.42M Coinbase Global (NASDAQ:COIN) shares on Tuesday from three of her ETFs, and marking her first sale of COIN shares this year, according to the firm's daily trade notification.
The share sales came on the day that shares of Coinbase (COIN), the largest U.S. cryptocurrency exchange platform, sank 21% after reports that the U.S. Securities and Exchange Commission is investigating whether some of the tokens traded on the platform should be registered as securities.
ARK Innovation ETF (NYSEARCA:ARKK) sold 1.13M shares of Coinbase (COIN), ARK Next Generation Internet ETF (NYSEARCA:ARKW) sold 174,611 shares and ARKT Fintech Innovation ETF (NYSEARCA:ARKF) sold 110,218 shares, according to the notice. The shares were valued at ~$75M at Tuesday's close.
Last week, the SEC filed a complaint against a former Coinbase (COIN) employee, alleging insider trading of certain crypto assets. As part of that probe, the SEC contended that nine digital assets involved in the case are securities and filed securities fraud charges against the individual.
"Seven of the nine assets included in the SEC's charges are listed on Coinbase's (COIN) platform. None of these assets are securities," Coinbase Chief Legal Officer Paul Grewal said in a blog post last week. "Coinbase does not list securities on its platform. Period."
In Wednesday premarket trading, Coinbase (COIN) stock is rising 4.4%, clawing back some of Tuesday's loss.
Earlier, Cathie Wood bought the dip on Shopify (SHOP), adding 1.76M shares to her ETFs.