Sherwin-Williams slashes full-year earnings guidance; shares -12%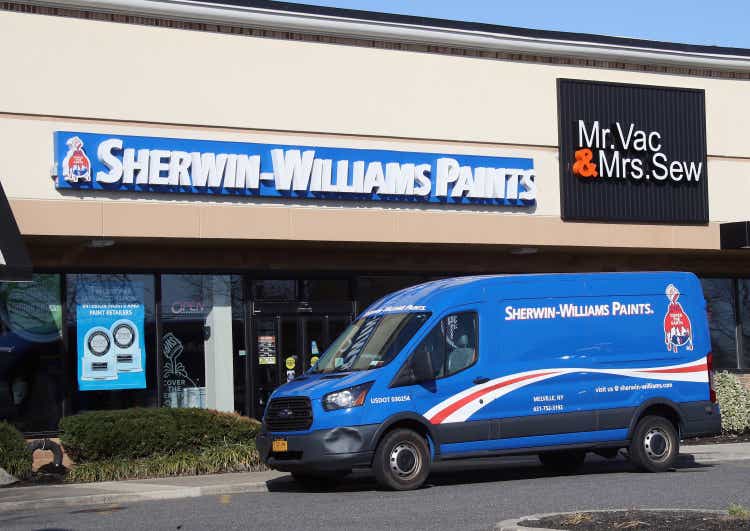 Sherwin-Williams (NYSE:SHW) -12.3% pre-market on Wednesday after missing Wall Street estimates for Q2 adjusted earnings and revenues while also cutting full-year earnings guidance.
Q2 net income fell to $577.9M, or $2.21/share, from $648.6M, or $2.42/share in the year-earlier quarter, and revenues rose 9% to $5.87B but came in short of analyst expectations for ~$6B.
Q2 net sales by segment: Americas Group +8.1% Y/Y to $3.34B, Performance Coatings Group +15% to $1.79B, Consumer Brands Group +0.9% to $737.9M.
Citing the shortfall in Q2 results, demand pressures in Europe, China and the North American do-it-yourself market, and surging inflation, Sherwin-Williams (SHW) now forecasts FY 2022 adjusted EPS of $8.50-$8.80, down from prior guidance of $9.25-$9.65 and below $9.38 analyst consensus estimate, and sees full-year revenues rising by high-single to low-double digit percentage, compared with its prior outlook for a 10% Y/Y increase, or ~$21.8B consensus.
For Q3, the company forecasts revenues rising by low to mid-teens percentage, compared with previous guidance for an 11% Y/Y increase, or $5.72B consensus.
Sherwin-Williams (SHW) will implement a 10% price increase across the Americas on September 6, "with significant additional pricing actions being taken in our other two operating segments," CEO John Morikis said.
Sherwin-Williams' (SHW) stock price return shows a 25% YTD decline and an 11% loss during the past year.