Lloyds Banking Group raises 2022 guidance after strong Q2 results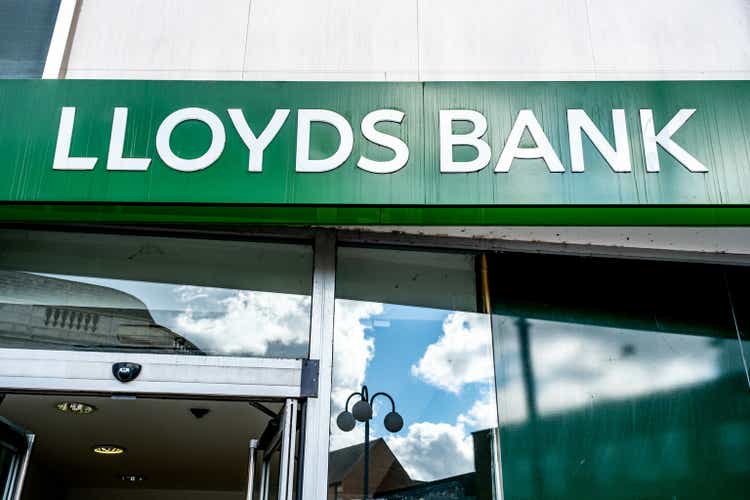 Lloyds Banking Group (NYSE:LYG) ADSs are rising 3.8% in Wednesday morning trading after the U.K.-based bank improved its 2022 guidance and Q2 earnings benefited from higher interest rates and controlled costs.
The company now expects 2022 banking net interest margin to exceed 2.80%, up from its 2.70% guidance it gave in the previous quarter's results.
Asset quality ratio is expected to be below 20 basis points vs. prior guidance of ~20 bps.
Return on tangible equity is now projected to be ~13% vs. prior view of greater than 11%.
It maintained guidance for operating costs of ~£8.8B ($10.6B) and risk-weighted assets at the end of the 2022 to be ~£201B ($242B).
Q2 underlying profit before impairment was £2.16B, up from £1.96B in Q1 2022 and from £1.53B in Q2 2021. An impairment charge of £200M in the most recent quarter resulted in underlying profit of £1.96B. That compares with £1.79B (including £177M impairment charge) in Q1 and £1.91B (including £374M impairment credit) in Q2 2021.
Cost/income ratio in Q2 2022 dropped to 50.2% from 52.3% in the prior quarter and 60.7% in the year-ago quarter.
Return on tangible equity rose to 15.6% in Q2 from 10.8% in Q1, but fell from 24.4% in Q2 2021.
Earlier, Lloyds Banking H1 non-GAAP EPS of £0.037, net interest income of £6.14B