Software stocks surge on back of Microsoft's 'guidance heard around the world,' Fed rate hike
Jul. 27, 2022 3:28 PM ET
Microsoft Corporation (MSFT), CRM-USD, INTU, ADBE
GOOG, AMZN, ORCL, CRM, ADSK, WDAY, GOOGL, MNDY
By:

Chris Ciaccia,

SA News Editor
4 Comments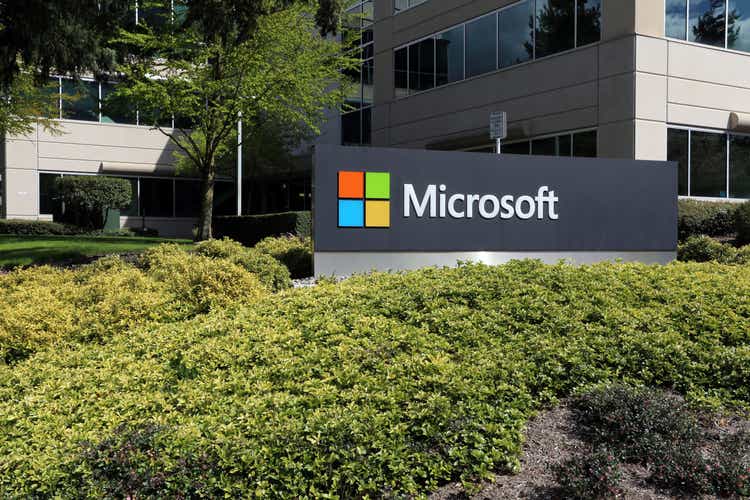 Software stocks jumped on Wednesday after investor concerns were eased by Microsoft's (NASDAQ:MSFT) 2023 guidance, which one analyst said would be "heard around the world" and the Federal Reserve's decision to raise interest rates.
Wedbush analyst Dan Ives noted that Microsoft's (MSFT) guidance is likely to be seen as a "major boost" for bulls of the tech giant and the tech sector in general.
"This will be bullish guidance heard around the world and on the Street as the market digests this positive commentary in a darkening macro," Ives wrote in a note to clients, adding that Microsoft (MSFT) is seeing "firm customer demand" and clear strength on the cloud.
On its earnings call, the company said it expected double-digit growth in sales and operating income in fiscal 2023, with margins roughly flat.
"Clearly, the issues in [More Personal Computing] and in areas like advertising are going to remain headwinds in the near term, but we believe that Microsoft's initial [2023] guidance of double-digit revenue and operating income growth (on both a reported and [constant currency] basis) helps support the long-term bull thesis," Evercore ISI analyst Kirk Materne explained.
Microsoft (MSFT) gained nearly 7% to $268.90 in late-day trading, while Salesforce (CRM), Intuit (NASDAQ:INTU) and Adobe (NASDAQ:ADBE) all saw gains of at least 5%. Oracle (ORCL), which competes with Microsoft (MSFT), as well as Google (GOOG) (GOOGL) and Amazon (AMZN) in the cloud computing space, saw more modest gains of 2.5%.
Smaller software companies also saw solid gains, including Workday (WDAY), monday.com (MNDY) and Autodesk (ADSK). On Wednesday, investment firm Oppenheimer started coverage on Autodesk (ADSK) with an outperform rating and a $230 price target.
Earlier today, it was reported that Microsoft (MSFT) has asked other cloud computing companies, for help to curb Amazon's (AMZN) dominance in the space.