Another 'large increase' may be appropriate in September: Powell press conference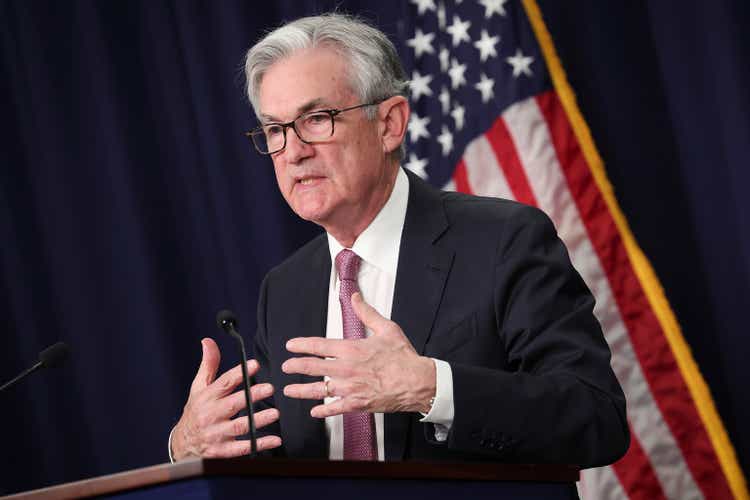 "The current picture is clear to see — the labor market is extremely tight and inflation is much too high," Federal Reserve Chair Jerome Powell said during the post-monetary policy decision press conference.
"Another unusually large increase could be appropriate at the next meeting," he said. But it likely will be appropriate to slow the pace as rates become more restrictive, he added.
3:25 PM ET: Press conference ends.
3:24 PM ET: "Given how quickly we've moved, I'm gratified that markets are working and basically orderly." Powell said, admitting that there's some volatility. The banking system is well capitalized, and household balance sheets overall are in good shape. "From a financial stability standpoint, you have pretty decent picture," he said. Still, he said he understands the pain that high inflation causes.
3:15 PM ET: In pivoting to tighten policy by tapering asset purchases, Powell said, "We were trying to avoid a taper tantrum. They can be quite destructive."
The big uncertainly in 2020/2021 was figuring out how the reopening of the economy would work, and the Fed had thought that supply chain disruptions would resolve faster than they have, he said. "The learning is about how complicated these supply-side issues can be."
3:09 PM ET: Regarding the Fed's balance sheet reduction plan, Powell said, "We think it's working fine... In September the Fed's balance sheet reduction plan goes to full strength." Getting the balance sheet to equilibrium could take two to two and a half years, he added.
3:07 PM ET: The slowdown in Q2 is "notable," he said. "In all probability, demand is still strong and the economy is still on track to grow this year."
3:04 PM ET: "There's some evidence that labor demand has been slowing a bit," Powell said. The economy is starting to see "modestly slower job creation," though it's still robust, he said. Average hourly earnings appear to be moderating. The employment cost index, to be released on Friday, will be an important indicator.
3:01 PM ET: The FOMC will watch both personal consumer expenditures figures and consumer price index. PCE, though, does a better job of "capturing inflation" than CPI, he said.
2:57 PM ET: "At some point, it will be appropriate to slow down" the rate hikes, Powell said. "We haven't decided when that will be."
2:54 PM ET: The new rules for Fed officials' investments are the "toughest" of any similar institution, he said.
2:53 PM ET: "I do not think the U.S. is currently in a recession." That's because there are too many areas of the economy that are doing too well for there to be a recession, he explained. One of those areas is the exceptionally strong labor market.
2:50 PM ET: "It's necessary" to slow economic growth to get inflation back down to 2%, Powell said. He declined to say whether he's expecting a recession. The Fed must bring down inflation to benefit the economy in the longer term, he said. "We're not trying to have a recession, and I don't think we have to."
Still, the path to a soft landing has narrowed and may narrow further, he said.
2:47 PM ET: All three major U.S. stock averages are moving up after Powell's comments. The Dow Jones is rising 1.2%, the Nasdaq +3.7%,and the S&P 500 +2.3%.
Update at 2:42 PM ET: "That's not a decision we're making now," Powell said. The Federal Open Market Committee will make those decisions on a meeting-by-meeting basis, rather than giving the specific guidance they gave at the previous two meetings.
As usual, he reiterated that the Fed has the tools to bring down inflation and the resolve to do it.
"I think the committee broadly feels we need to get policy to a modestly restrictive level" by the end of this year. At the June meeting, the FOMC members' median expectation was for 3.25%-3.50% at the end of this year.,
At the end of the two-day meeting, the Federal Open Market Committee raised its key interest rate by 75 basis points for the second time, bringing the federal fund target range to 2.25%-2.50%, as it struggles to bring down inflation.
Also see: Nasdaq, S&P 500, Dow Jones higher with little impact from expected rate hike