Amazon's Q2 Earnings to see record low growth rates amid softer online sales, pressure on cloud service business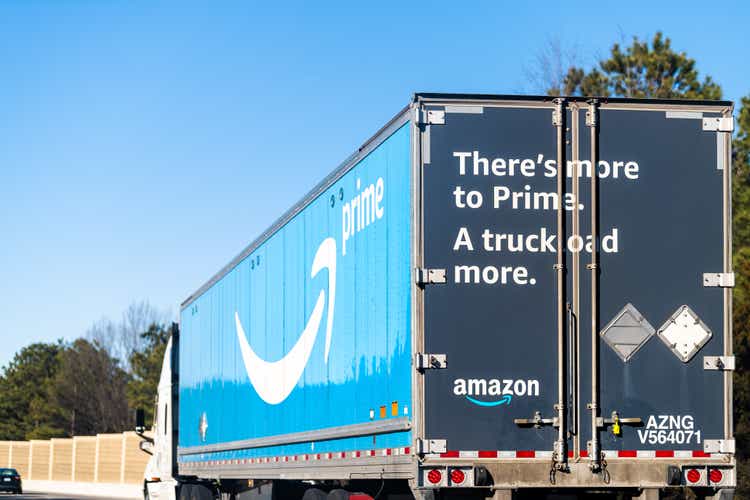 Amazon (NASDAQ:AMZN) is scheduled to announce Q2 earnings results on Thursday, July 28th, after market close.
The consensus EPS Estimate is $0.12 (-84.5% Y/Y), the first ever drop in over seven years and the consensus Revenue Estimate is $119.16B (+5.4% Y/Y); this marks the slowest

growth rate in 20 years.

Over the last 1 year, AMZN has beaten EPS estimates 75% of the time and has beaten revenue estimates 100% of the time.
Over the last 3 months, EPS estimates have seen 0 upward revisions and 31 downward. Revenue estimates have seen 2 upward revisions and 37 downward.
What industry reactions indicate?
While online sales at Marketplace is seen reporting a drop, subscription business is expected to see growth in sales wherein Prime is more valuable to consumers; AWS is seen being the major driver to contribute to Amazon's Q2 growth.
The company announced the general availability of AWS IoT TwinMaker, AWS Amplify Studio, Amazon Aurora Serverless v2, AWS Mainframe Modernization, and Graviton3 processor-backed Amazon Elastic Compute Cloud C7g instances; AWS was also picked by Boeing as the strategic cloud provider.
Slowdown in online shopping activities, ongoing inflationary pressure, elevated staffing costs and supply-chain disruptions are likely to have been concerning.
Mizuho Securities analyst indicate that Amazon.com's cloud service business could be under pressure amid rising recession fears; major IT service firms have planned to reduce spending and offer discounts to gain share in the low-end of the market.
Analyst added, "At the same time, our checks indicate that AWS is considering a discount of up to 10% in September/October for new contracts/renewals when IT budgets are set for FY23."
Investors will be closely watching Amazon Web Services sales numbers to judge the company's future outlook and upcoming steps.
Oppenheimer analyst Jason Helfstein says, "We are conservatively reducing second-half e-commerce estimates assuming consumer spending slows after stable summer trends."; he remains a long-term bull on the stock.
Of the 53 Wall Street Analysts covering the stock, 36 have assigned a Strong Buy and 14 rated it a Buy.
Of the 24 SA Author's Rating who covered the stock in past 30 days, the stock has a Buy from 9 analysts and 7 have a Hold and 4 rate it Strong Buy.
What the company believes?
In Q2, the company launched a Prime benefit called Buy with Prime, which allows Prime members in U.S. to shop directly from merchants' online stores and avail of fast and free delivery service; this could have led to higher Prime subscriptions.

The company's focus on grocery retail is also likely to have boosted its Q2 performance; rising number of Amazon Fresh grocery stores, 4-star stores and Amazon Go outlets across U.S. have also supported Q2 sales.