Manchin reaches surprise deal with Schumer on energy, healthcare package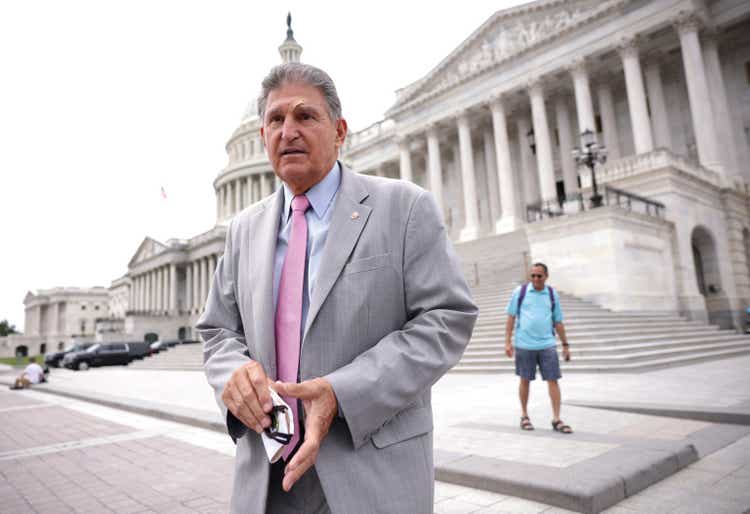 Solar and green energy stocks are moving higher after-hours Wednesday on news that Senator Joe Manchin reached an agreement with Senate Majority Leader Chuck Schumer to vote on a package aimed at supporting alternative energy and lowering healthcare costs while reducing the federal deficit.
Among other things, the Inflation Reduction Act proposes a 15% corporate minimum tax, extends some Obamacare subsidies and allows Medicare to negotiate prescription drug costs, and invests in all types of energy - solar, hydrogen, nuclear, renewables, fossil fuels and energy storage.
According to The Wall Street Journal, the new package would raise $739B, of which $369B would be dedicated to climate and energy programs, and $64B to extending healthcare subsidies for some Affordable Care Act users, with the rest intended to reduce the federal deficit.
Solar stocks trade broadly higher after-hours: (RUN) +6%, (FSLR) +4.4%, (SPWR) +3.8%, (CSIQ) +2.7%, (JKS) +2.5%, (ENPH) +2%, (SEDG) +1.8%.
Among top alternative energy names: (PLUG) +11.2%, (FCEL) +7.6%, (BE) +7.5%, (BLDP) +5.9%.
Potentially relevant ETFs include: (NYSEARCA:TAN), (FAN), (NASDAQ:ICLN), (NASDAQ:QCLN), (PBW), (PBD), (ACES), (CNRG), (SMOG), (ERTH)
Manchin's support marks a turnaround from two weeks ago, when he cited inflation concerns in abandoning talks over an economic package that included tax increases and new spending on climate measures.