Pfizer tightens 2022 earnings guidance as COVID franchise outperforms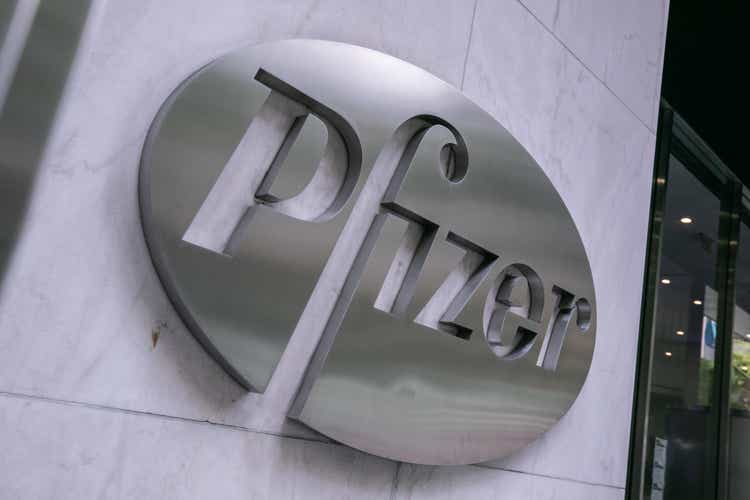 Pfizer (NYSE:PFE) reported better than expected financials for 2Q 2022 on Thursday and raised the lower end of the earnings guidance amid forex impact while the performance of its COVID franchise continued to exceed forecasts.
Revenue for the quarter jumped ~47% YoY to $27.7B, driven by the contribution of the COVID-19 shot Pfizer (PFE) co-developed with BioNTech (BNTX).
The vaccine branded as Comirnaty added direct sales and alliance revenues worth of $8.9B to surpass expectations for the quarter with ~13% YoY growth.
Meanwhile, the company's COVID-19 antiviral pill Paxlovid contributed $8.2B revenue to exceed Street forecasts.
However, Pfizer's (PFE) revenue adjusted for COVID-19 vaccine and pill only grew ~1% YoY operationally as JAK inhibitor generated $430M revenue with ~27% YoY decline.
Meanwhile, vaccine franchise generated $10.5B with ~13% YoY growth as Prevenar group of vaccines exceeded Street forecasts to add $1.4B revenue with ~15% YoY growth.
The revenue from blood thinner Eliquis reached $1.7B with ~18% YoY growth, while sales of the anti-smoking agent Chantix/Champix fell ~99% YoY amid a global pause in shipments.
Pfizer (PFE) beat the consensus for earnings as cost of sales as a percentage of revenues decreased 5.8% YoY, driven by a favorable change in sales mix and forex impact.
While the company raised the 2022 guidance for revenue on an operational basis, the revenue outlook remains unchanged from the previous estimate after adjusting for unfavorable forex impact.
However, Pfizer (PFE) has raised the lower end of the adj. diluted earnings per share guidance by $0.05 to revise the forecast to $6.30 to $6.45 from $6.25 to $6.45.
According to contracts signed as of mid-July 2022, the full year outlook for COVID-19 vaccine and pill remains unchanged at $32B and $22B, respectively, as forex impact has offset the favorable operational updates. The analysts polled by Bloomberg expected the company to set 2022 sales guidance for COVID-19 vaccine and pill at $34.3B and $23.4B, respectively.
"In multiple meaningful ways, we made significant progress this quarter on our strategies to bring value to our patients and shareholders…." Pfizer (PFE) Chief Executive Albert Bourla said ahead of the earnings call.
"In the second quarter, we recorded the largest amount of quarterly sales in our history," he added.
Read: On Wednesday, Pfizer (PFE) announced its next gen COVID-19 vaccine updated for Omicron variant entered a mid-stage trial.